Volunteer with us and help to save the slow loris!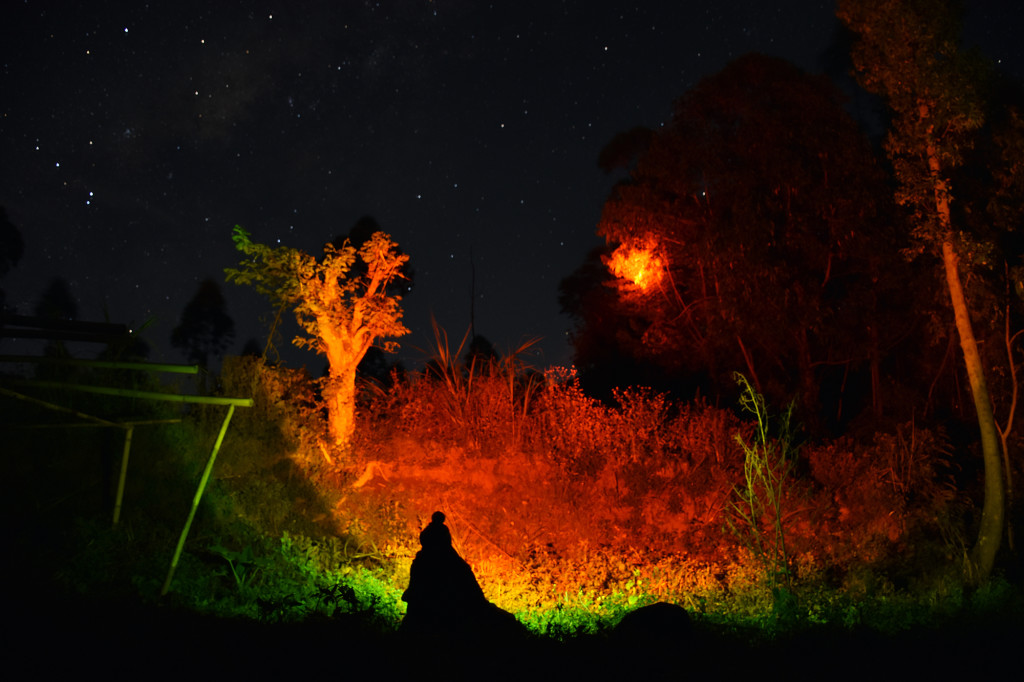 What do our volunteers do?
Thinking about volunteering? You can read the experiences of volunteers present and past here!
Three to four research assistants at a time are required to collect data on the behaviour and ecology of wild slow lorises, using radio-tracking, nocturnal behavioural observation and habitat assessment. During the day, volunteers may help with our education and community projects. Volunteers are welcome any time of the year subject to availability. More information can be found in our volunteer guide.
Where are we?
The field site of Cipaganti is situated in West Java, near the town of Garut. The accommodation is in our field station 'Rumah Hijau' (Green House). Students and assistants will all be responsible for housekeeping, cooking, and costs are shared. Local mobile networks are well-developed and an internet cafe is located a short 15 minute motorbike ride down the hill.
Qualifications/Experience:
Ideally, volunteers will have experience with foreign travel (ideally in the tropics); basic experience of working on a scientific research project (e.g. undergraduate dissertation), collecting and working systematically with data, and have a passion to watch animals (even lazy ones on a cold dark night!). They must be mature, responsible, reliable, open, flexible, healthy, able to work independently but also as part of a team, and be highly motivated. Nocturnal work can be hard, especially in rainy and cold nights, and when animals decide that they do not want to be seen. Life in the research station may not permit a lot of personal space (rooms have to be shared). The applicant should have above average social skills, and must be happy to take her/his share in housekeeping and cooking. Although there is good mobile phone and e-mail communication, sometimes things do not work and the applicant must be comfortable being unplugged. Applicants must have a tolerance towards local customs and beliefs (women have to be dressed appropriately with clothing covering elbows, knees, and chests and cannot smoke/drink in public) and be comfortable with other conditions and risks like Indonesian-style bathrooms or rare confrontations with noxious plants or animals. Applicants must be willing to learn about the methods used to study the lorises, their environment and the people they live alongside. Applicants must also realise that this is not a holiday, but that they may be working 40 or more hours a week to follow animals, maintain the field station and enter the data.
Cost:
This is a volunteer position and the applicant is responsible for their return flight to Jakarta, visa, comprehensive travel and medical insurance. The current field station rate varies depending upon length of stay, but includes two vegan meals per day six days per week, accommodation, use of project equipment and guides.
The volunteer fee is taken at a monthly rate. Volunteer stays that do not include a full month (e.g. 5.5 months) will apply a weekly rate to the remainder of their stay.
Prices are as follows:
Short-term volunteers (<2 months): £200 per week
Mid-term volunteers (2-6 months): £300 per month
Long-term volunteers (>6 months): £250 per month
Application Deadline:
Rolling
To apply for one of our volunteer positions, download and fill out our volunteer application here and send to volunteer@littlefireface.org

Your time with LFP will contribute to valuable scientific, education, and possibly academic literature on the ecosystem in which slow lorises live in West Java, as well as the people with whom they live. Click on the link here for some examples: Volunteer field staff outputs
What previous volunteers said about LFP:
Antoine Rio-Cabello, 2016 Volunteer – "I had such a great experience at LFP from the moment I applied to the moment I left. I made lifelong friends and felt like I really made a difference in the conservation of the Javan slow loris. The staff at LFP are professional and welcoming, and the local trackers and team members are so friendly. You really live in a small Sundanese community and are immersed in a completely foreign culture. It'll change how you see the world for the better"

Peter Roberts, 2015 Volunteer – "The Little Fireface Project has been an amazing first experience in field research and has taught me that community outreach is an essential part of any conservation effort. Go Team Fireface!"

Anna Zango Palau, 2014 Volunteer – "Working in this project allowed me to learn about research, conservation and daily life: without a doubt it has been one of the best experiences that I have ever had."

Josie Phillips, 2013-14 Volunteer – "I received such a warm reception from the Java team and the experiences I had during my time with LFP are comparable to nothing else. I cried when I saw my first loris in the wild and I cried after I saw my first loris from the wildlife trade. I was so lucky to have the opportunity to work with LFP. The whole experience made me a much braver person and I wouldn't think twice about returning."