WELCOME TO S.L.O.W. 2015

This year's S.L.O.W. runs from 14-20 SEPTEMBER. Will you go S.L.O.W. with us??
Entering its fourth year, Slow Loris Outreach Week (S.L.O.W.) aims to bring attention and awareness to the plight of a little know group of primates – Asian lorises – some of the most endangered primates in the world.
We will be taking part in various events in the UK, sharing educational information and updates from our team in West Java, and bringing news from our project partners around the world.
We will be updating this page as S.L.O.W. approaches, so please check back for news and events for S.L.O.W. 2015.
WHAT'S HA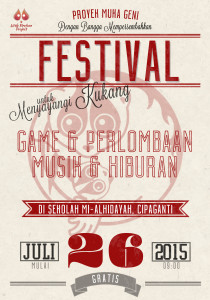 PPENING (to be updated)?
Fri 26th July – As a pre-cursor to S.L.O.W., in Cipaganti Village, Java, we will hold the Festival of Loris Love – all are welcome!
Mon 14th September – Professor Anna Nekaris will give a talk at the Oxford Natural History Museum to the Oxfordshire Mammal Group on Slow Loris Conservation and the Little Fireface Project.
Thurs 17th September– The LFP team will be presenting a Soap Box talk at the new LUSH flagship store on Oxford Street (175 – 179 Oxford Street. London W1D 1JS) ! Professor Anna Nekaris will also be giving a talk about the Little Fireface Project, and their work in the conservation of the Asian lorises, including problems of palm oil and the pet trade.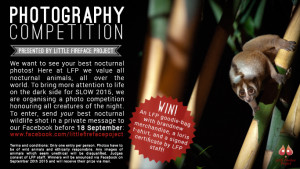 Sunday 20th September – We will announce the winner of the SLOW photography competition on Facebook. To participate, click on the image!
If you would like to read a little more about what S.L.O.W. is all about, please read on….
THE SLOW CAMPAIGN
During S.L.O.W. we ask for as many people as possible to change their Facebook banner to our S.L.O.W. banner featured at the top of this page, and share loris conservation messages across social media. This way you can do your bit in helping to spread awareness and inform others of the threats to these enigmatic creatures. Download your Facebook Profile Pic and banner here!

We ask groups around the world to share information about S.L.O.W. via conservation groups, zoos, animal welfare groups etc. Please download our brochure, flyer, and presentation to use!
SLOW ACTION FOR A FAST-GROWING TRADE
Few of us would deny the beauty of the slow loris, however their "cute" appearance can be a curse! As a result of their beauty, many of these animals end up in Asia's animal markets, where they are sold as pets. This comes at a huge costs to the animals, with many being subjected to having their teeth ripped out, crammed in tiny cages in the baking sun, and unfortunately many individuals will not survive these markets. Lorises are also used widely across Asia in traditional medicine, as they are believed to be the cure of a "100 diseases". Individuals are snatched from the wild, killed, and dried to be sold in markets. Lorises are further persecuted through their use in the tourist photo prop trade. Individuals are paraded along busy, bright streets where tourists are invited to take a photograph with the "strange but cute" loris.
Your participation in Slow Loris Outreach Week, no matter how small, will impact greatly on the conservation of the slow loris. We here at the Little Fireface Project sincerely appreciate your support and generosity in spreading the much needed and message for the protection and preservation of one of the planets most endangered primates.
Other materials are available on your Education Page, but you can download our new colouring book just in time for S.L.O.W.!