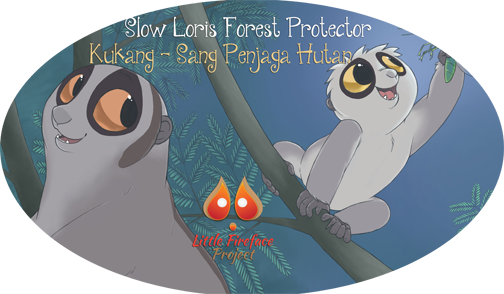 Javan slow lorises are one of the most beautiful animals on the planet, yet they are rapidly disappearing. Found in few protected areas, it is up to the local people of the agroforests to protect these animals.Unknown to most villages, slow lorises play a vital role in protecting the forest. Tereh and Bunga's story tells how a slow loris loris mother and son protect their human neighbours by pollinating vital flowers and eating pests that would damage their crops. At the same time, children learn that these primates, just like us, learn from one another in a loving way.
On these pages, you can join LFP and download activities and information about Tereh and Bunga. In July, you will be able to purchase the book Slow Loris Forest Protector, with all proceeds going back to our education projects. We encourage you to use our education  pack and other materials and provide feedback on success and ways we can improve them. We also encourage users to upload their photos to Boris' Board and videos to Little Fireface Project YouTube Channel. 

LFP Boris the Slow Loris Paper Dolls
LFP Activity Pack
Download the activity (kite making, origami making, or maze) to make it larger:
For more information on the illustrator of our book, visit Shelley Low's web site.