ABOUT THE LITTLE FIREFACE PROJECT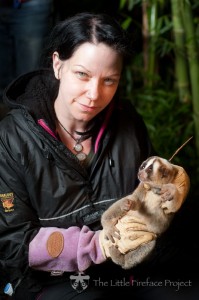 Slow lorises are a unique group of primates found throughout South and Southeast Asia. Their vice-like grip, snake-like movements, shy nature, and most remarkably, their venomous bite, make them unique amongst the primates. They also are to many people undeniably adorable, and to others, nature's answer to over 100 diseases. Their slow movements make them easy prey to expert hunters who literally empty the forests of these shy primates – amongst the most common mammals seen in Asia's illegal animal markets, but amongst the rarest spotted even in Asia's best protected forests.
The Little Fireface Project, named after the Sundanese word for loris, is the world's longest running loris conservation project, started in 1993, under the auspices of the Nocturnal Primate Research Group of Oxford Brookes University. Our research was highlighted in the award winning 2012 film Jungle Gremlins of Java. We aim to save lorises from extinction through learning more about their ecology and using this information to educate local people and law enforcement officers, leading  to empathy and empowerment whereby people in countries where lorises exist will want to save them for themselves. This is done through education, media, workshops and  classroom programmes. Our education does not stop in range countries, but also reaches out to potential western purchasers of loris pets.
---
Lorises, tigers and bears –Oh my! - 19/04/2014
by Grace Fuller
Lately my work with lorises in Java has led me to spend a lot of time with the other residents of Cikananga Wildlife Center. One of the possible functions of slow loris venom is to repel predators, and I have been testing this hypothesis by observing behavioural reactions of potential loris predators to samples of venom collected from the Little Firefaces. So far, I have conducted tests with Malayan sun bears, orangutans, and three species of eagles: Javan hawk eagles, changeable hawk eagles, and crested serpent eagles. There are confirmed cases of orangutans and changeable hawk eagles predating on slow lorises in the literature, so the lorises have reason to be wary of these species!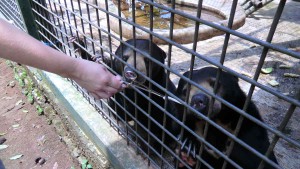 To conduct these tests, I offer a sample of the venom with a piece of food, which ensures that the predator is motivated to explore the test item. For the bears, this means wrapping a venom sample collected on a tissue around a piece of rambutan (a tasty local fruit) and sealing it with a drop of honey. In the future, I will be testing Javan leopards and other felid species at Cikananga, and I am hoping to venture outside the rescue center to conduct further tests with other potential predators including tigers, civets, and snakes. I have also been working with the sun bears to collect saliva samples (see photo) which I plan to use to measure hormones to determine if the loris venom elicits a stress response in the bears. Stay tuned for what I hope will be some interesting results!
---
Tweets by @littlefireface