ABOUT THE LITTLE FIREFACE PROJECT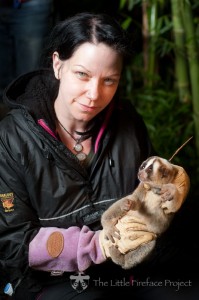 Slow lorises are a unique group of primates found throughout South and Southeast Asia. Their vice-like grip, snake-like movements, shy nature, and most remarkably, their venomous bite, make them unique amongst the primates. They also are to many people undeniably adorable, and to others, nature's answer to over 100 diseases. Their slow movements make them easy prey to expert hunters who literally empty the forests of these shy primates – amongst the most common mammals seen in Asia's illegal animal markets, but amongst the rarest spotted even in Asia's best protected forests.
The Little Fireface Project, named after the Sundanese word for loris, is the world's longest running loris conservation project, started in 1993, under the auspices of the Nocturnal Primate Research Group of Oxford Brookes University. Our research was highlighted in the award winning 2012 film Jungle Gremlins of Java. We aim to save lorises from extinction through learning more about their ecology and using this information to educate local people and law enforcement officers, leading  to empathy and empowerment whereby people in countries where lorises exist will want to save them for themselves. This is done through education, media, workshops and  classroom programmes. Our education does not stop in range countries, but also reaches out to potential western purchasers of loris pets.
---
Meeting the Gremlins - 27/11/2014
Having the opportunity to complete a placement year/year in industry was a key feature that I looked for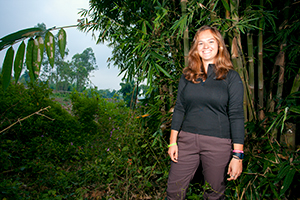 when deciding on my university course. After deciding on Conservation Biology at UWE, U.K., thinking of ideas for my placement was never far from my mind and early into my second year I looked to finalise the details. I'd been keeping my eyes open, scanning job sites as well as reading magazines and watching various documentaries for ideas trying not to get ahead of myself ('trekking through rainforest with David Attenborough' is not a commonly advertised job title – I've checked). I was mentally compiling a list of ideas and dreams and becoming familiar with organisations, and although I'd eventually come to terms with the fact I wouldn't be setting off anywhere with Sir David, I was determined to make the absolute most of my year out.
I'd come across Prof Anna Nekaris' Little Fireface Project on one of my many searches and added it to 'The List'. Months previously I had seen "Jungle Gremlins of Java' and my interest was sparked. I knew of slow lorises, but in little detail and it was while watching Jungle Gremlins that I fell in love with the slow loris and was horrified to learn of their plight. Watching scenes of them elegantly wiggle through the trees with that snake like movement then switching to those same huge eyes but from a cage in animal market shots brought me to tears.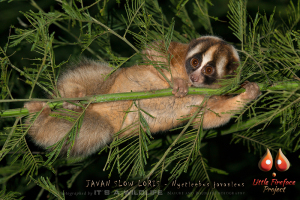 The documentary had opened my eyes not only to the magic of seeing these curious animals in the wild, but also to the horrors and realities of fieldwork conservation. It inspired me and fueled my desire to spend the year out at an in-situ conservation project. I often thought of the documentary but spending my placement in Java sounded too much like a dream; it had the traveling aspect I was looking for and I had a new found love for Slow Lorises; fascinated by the little we knew of them, their adorable appearance and was desperate to help in any way I could to reduce the trade and numbers in the markets. By this point I had looked into the project and was impressed by its diversity. Jungle Gremlins of Java had left a lasting impression!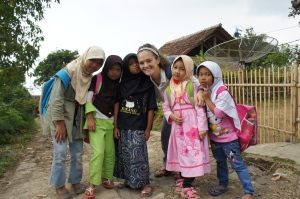 It all happened quite quickly after that, a couple of days after finding LFP on a search page a friend randomly talked about someone she knew who was working in Java with slow lorises – 'Firefaces or something' and had I heard of it? That same day while flicking through an old copy of BBC Wildlife Magazine I came across an article about slow lorises, including an interview with Prof Nekaris and discussing her project in Java… Later that week, probably while procrastinating from some important deadline, a link to the Little Fireface Project page popped up on my news-feed of some social media site, possibly the only time when knowing what a friend-of-a-friend-of-a-friend has 'liked' was actually useful! Finally unable to ignore these series of events I took the plunge and found Anna's email from the project website and the rest is history. Now three months down the line and writing this from the volunteer room in the Javan field station I can honestly say that it was the most life-changing decision I've ever made.
Jess Wise – Student Volunteer
---
Tweets by @littlefireface