ABOUT THE LITTLE FIREFACE PROJECT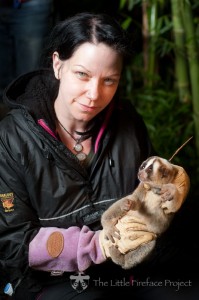 Slow lorises are a unique group of primates found throughout South and Southeast Asia. Their vice-like grip, snake-like movements, shy nature, and most remarkably, their venomous bite, make them unique amongst the primates. They also are to many people undeniably adorable, and to others, nature's answer to over 100 diseases. Their slow movements make them easy prey to expert hunters who literally empty the forests of these shy primates – amongst the most common mammals seen in Asia's illegal animal markets, but amongst the rarest spotted even in Asia's best protected forests.
The Little Fireface Project, named after the Sundanese word for loris, is the world's longest running loris conservation project, started in 1993, under the auspices of the Nocturnal Primate Research Group of Oxford Brookes University. Our research was highlighted in the award winning 2012 film Jungle Gremlins of Java. We aim to save lorises from extinction through learning more about their ecology and using this information to educate local people and law enforcement officers, leading  to empathy and empowerment whereby people in countries where lorises exist will want to save them for themselves. This is done through education, media, workshops and  classroom programmes. Our education does not stop in range countries, but also reaches out to potential western purchasers of loris pets.
---
Why do lorises produce toxic compound - 12/04/2014
One of the most interesting facts about the slow loris is that it is the only venomous primate. Slow lorises produce a toxic compound from their brachial glands (a patch of bare skin from their inside elbow up to their armpits), which they lick to combine with their saliva and "activate" the venom. The reason why slow lorises are venomous is still somewhat of an unsolved mystery.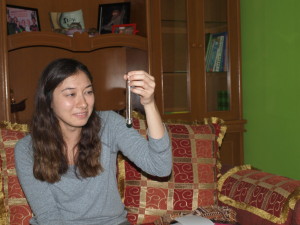 As part of my postdoctoral research with the Little Fireface Project, I am exploring some of the hypotheses for why slow lorises produce such toxic compounds. Is it to ward off ectoparasites, tiny bugs that live in their fur and potentially could transmit diseases to them? Is it to deter predators of the night, including owls, hawks, and eagles? Could the venom serve multiple purposes?
In order to answer these questions, myself and LFP volunteer Anna Zango have been conducting two separate phases of research. First, we have been conducting a series of experiments testing the responses of various insects to the venom of slow lorises, using a combination of saliva and brachial gland secretions. Second, we have been playing the sounds of predators to the lorises as they forage at night, to see if they have any interesting behaviors that might be related to using their venom. We have to carefully study their reactions, and some of the lorises actually move quite fast! Good thing Anna has such sharp eyes!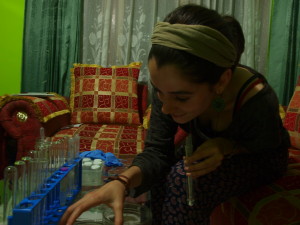 This project has been incredibly interesting. I never imagined to see such specific responses. So far, the data suggest that slow lorises are a lot more complicated, unique, and special than many people realize. So, I am really excited to continue this research exploring how slow lorises use venom as an adaptation.
---
Tweets by @littlefireface