ABOUT THE LITTLE FIREFACE PROJECT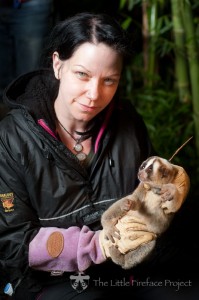 Slow lorises are a unique group of primates found throughout South and Southeast Asia. Their vice-like grip, snake-like movements, shy nature, and most remarkably, their venomous bite, make them unique amongst the primates. They also are to many people undeniably adorable, and to others, nature's answer to over 100 diseases. Their slow movements make them easy prey to expert hunters who literally empty the forests of these shy primates – amongst the most common mammals seen in Asia's illegal animal markets, but amongst the rarest spotted even in Asia's best protected forests.
The Little Fireface Project, named after the Sundanese word for loris, is the world's longest running loris conservation project, started in 1993, under the auspices of the Nocturnal Primate Research Group of Oxford Brookes University. Our research was highlighted in the award winning 2012 film Jungle Gremlins of Java. We aim to save lorises from extinction through learning more about their ecology and using this information to educate local people and law enforcement officers, leading  to empathy and empowerment whereby people in countries where lorises exist will want to save them for themselves. This is done through education, media, workshops and  classroom programmes. Our education does not stop in range countries, but also reaches out to potential western purchasers of loris pets.
---
Survey by the Seaside - 15/11/2014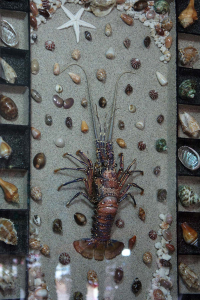 The pretty beach resort town of Pangandaran on West Java's southern coast is comparable, in the busy season, to parts of Bali. However during our trip last weekend, many of the sandy beaches, clear seas and row after row of beachfront hotels and restaurants stood empty. Despite the current lack of crowds, the seasonal tourist flow in Pangandaran has resulted in a year round array of  'traditional batik' clothing shops, banana boat rides, and unique souvenir stalls selling a myriad of goods ranging from hand-made leather bracelets to hand-stuffed animals. Sited amongst the typical gift options sit stuffed turtles, monitor lizards, dried inflated puffer fish and a range of huge and magnificent – and illegal – sea shells.
It was to be me along with two other representatives of the Little Fireface Project (for whom I am currently volunteering with) that would be travelling the six hour journey from our field station to Pangandaran in order to survey these illegal gifts.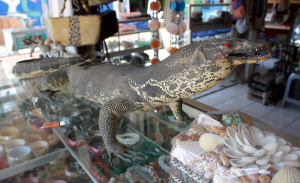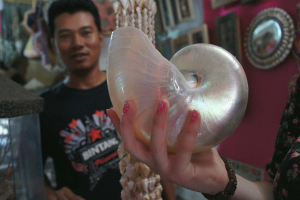 Katy, Katherine and I struggled through the intense heat, surviving only with the help of several ice-cream breaks. We made our way through the town and beachfront shops photographing and subtly noting numbers of these distasteful souvenirs as we went. The sheer volume of illegal shells was staggering. The vendors here were keen to show off their wares and would assist in arranging them in order for me to take the photos. With us playing the role of unaware casual tourists we were told we could get a large stuffed monitor lizard for Rp150,000 (about £7.50) and a nautilius shell for Rp180,000 (about £9) – and that was without any attempt at haggling the price. We saw seven sea turtles; adults and small juveniles. The casual attitude and cheap asking price that accompanied the carcasses of these once wonderfully docile and majestic animals was increasingly hard to bear. The chest and edge of the turtle's underside had been closed with heavy, haphazard stitching which just added to the morbidity of the situation.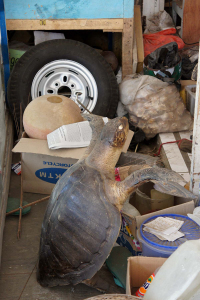 Amongst the other delicately decorated trinkets, the reality behind these larger souvenirs can be overlooked. Tourists on a 'holiday high' can easily forget that the unusual gift they just purchased was a living sentient being that was slaughtered and sold on for a price not at all reflective of that animal's worth, nor of the ecosystem in which it was living. There are so many reasons not to buy this type of memento; not only are some of the goods for sale illegal and carry the real risk of heavy fines (or even incarceration) if discovered, but the purchase of them creates a demand which further threatens already declining populations and their remaining habitats.
Photographing a surfacing sea turtle; a wild monitor lizard or the lucky find of a rare seashell, will all come with longer lasting memories that will indeed be much easier to pack in your suitcase at the end of your experience. But also, in addition to your beautiful and unique photographs, the clear conscience you will be rewarded with is something that you could never put a price on.
Jess Wise – Student Volunteer
---
Tweets by @littlefireface