Professor Anna Nekaris – Director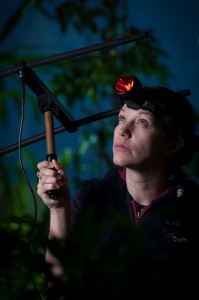 Prof Anna Nekaris is a world-renowned Professor in Anthropology and Primate Conservation studying the unique group of evolutionary distinct primates known as the Asian lorises.  Her studies cover all ten species, including five she named or elevated from subspecies.  Anna is the Course Tutor for the highly acclaimed MSc in Primate Conservation at Oxford Brookes University, Director of the Little Fireface Project and Convenor of the Nocturnal Primate Research Group.
THE JAVAN TEAM
Sharon Williams – Field Station Coordinator / Environmental Education Officer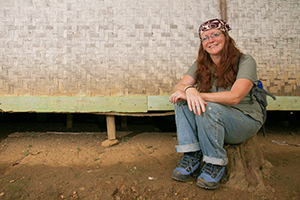 Coming to the project as a volunteer from Australia in December 2013, Sharon is now the projects coordinator and education officer.  With an extensive career in tourism and children's education, Sharon is the creator of 'Wild Volunteer' and online directory for the ethically-minded volunteer wanting to make a difference for direct action organisations throughout the world.  
Dendi Rustandi – Project Manager and Head Tracker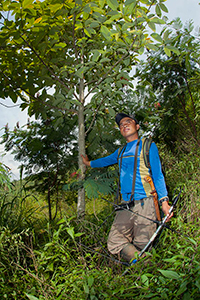 Originally from Pengelangan, Bandung, Dendi is an entrepreneur turned conservationist. Not only can he expertly guide the researchers and volunteers through the intricate maze of Cipaganti's fields and agroforests, but he also is adept at tracking the lorises and understanding the intricacies of their behaviour and their importance to the village ecosystem. Dendi was devastated to learn that the slow loris is being imperilled by the wildlife trade and hopes one day to save large tracts of forest in the area just for the lorises. He is a passionate educator and uses these skills to teach children and adults too that lorises are a vital part of the village ecosystem, and why they should be proud to be the protectors of one of the World's Top 25 Most Endangered Primates.
Aconk Ahmad Nugraha – Tracker and Media Assistant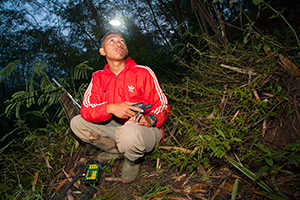 A Jack-of-all-trades, Aconk joined LFP as a 'junior' tracker, but it was clear straight away that his skills at finding lorises were above par, earning him the full title of Tracker. Aconk has a wonderful talent to watch and describe the loris' behaviour. Our favourite account of his is when he described the hours of zooming eyeshine that some can consider just a little boring as 'disco loris' – it is not boring anymore! Aconk'z is from Cipaganti and has an intimate knowledge of the village and its desires, and helps to integrate what we learn about lorises into our conservation education programmes. Aconk also plays a vital role liaising with volunteers, and may be the friendly face that greets you in Bandung if you come to visit our project.
Adin Nunur – Tracker and Wildlife Officer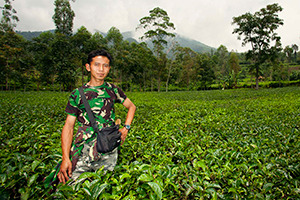 Adin had never heard of a slow loris before joining the LFP team and is a prime example of why our work is so important. He is now a dedicated member of the team, and knows more about loris behaviour than many people in the entire world. Adin guides both our researchers and our volunteers through some of the most difficult terrains in Cipaganti's agroforests, always with a smile. 
Yiyi Muhammad Nazmi – Tracker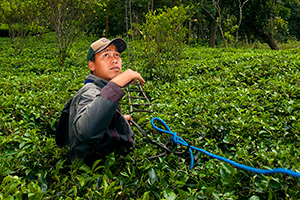 The newest member of the project's team, Yiyi is a highly experienced tracker with many years spent discovering and learning about the regions more elusive, nocturnal life. The importance of the Javan Slow Loris in West Java and the project's goals for its continuing survival is a passion shared by Yiyi.
Michael Williams – Project Photographer / Small Carnivore Studies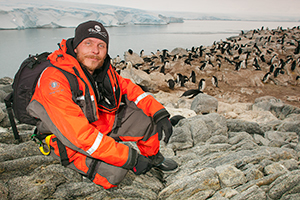 Michael is a professional wildlife photographer from Australia with a decade of field experience in locating threatened species for private landholders, contractors and government departments.  Michael has also volunteered with a variety of direct action organisations throughout the world documenting illegal poaching activities.  A dedicated conservationist, Michael is working with LFP to discover wildlife species present here at the study site, as well as small carnivore species with the aid of motion sensor cameras.
Noor Hanny Amalia – Education and Socialisation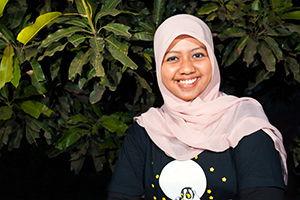 Noor Hanny Amalia is studying at State University in Jakarta.  Hanny's studies focus on environmental education and primate conservation.  For the past three years Hanny has been a member of the Macaques' Primate Study Club, which has fueled her passion for primates.  The Little Fireface Project hosted Hanny as part of her university placement and we are now very proud to have her as part of our permanent team, assisting with environmental education for adults and children, as well as organizing and running social events here in our village.
Francis Cabana – PhD Researcher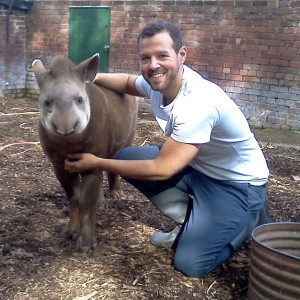 Francis was born in Canada and only recently moved to the UK to complete his Masters degree in Zoo Conservation Biology. He has been working as a nutrition researcher at Paignton Zoo Environmental Park for the last year and a half. When he started working on the pygmy slow loris diets, he quickly realized that the current husbandry manuals were not up to par. Lorises started to be the center of his research topics and somewhat of a healthy obsession. In a very small sampled study, he was able to show that feeding lorises their naturalistic food items can not only impact their health but also their behaviour. Francis is now a PhD student, researching the feeding ecology and nutrition of the Javan Slow Loris. His goal is to have concrete evidence to positively affect how zoo held lorises are fed in zoos and rescue centers.
Jess Wise – Student Volunteer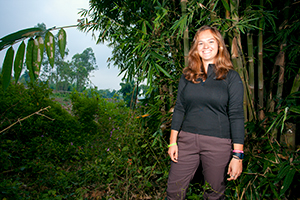 Conservation Biology student Jess Wise is currently studying at the University of the West of England. She will be volunteering as a research assistant at LFP until July 2015 and is excited to be involved in the research of such an unknown and mysterious primate! Jess is interested in behaviour studies, scientific communication and how attitudes regarding the human-animal interface differ between cultures. She hopes to gain a better understanding of the plight of one of the world's top 25 most endangered primates first hand and how conservation projects are coping with the ever-evolving threats facing these animals.
Sri Rakim – Education Programme Teacher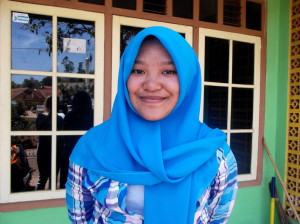 Sri has lived in Cipaganti her whole life and loves the spirit of the village and its people. Sri will prove an essential member of the LFP, as a student teacher she will be at the core of our new Education programme – she's also helping the team improve their language skills. Her experience with the Slow loris goes back a long way as her father is Head Forest Ranger for the Papandayan mountain region. Sri remembers learning about the dangers that lorises face from a young age and she's passionate about being part of a team fighting to save them. Sri's dream is to see the children of Cipaganti receive the best possible education. We hope that her being part of Team Fireface can help make this dream a reality.
ACTION PLAN COORDINATOR
Lara Rogers – Associate Researcher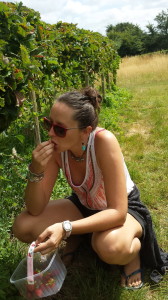 Lara has had a passion for all things wild since she was a child.  Growing up in the concrete jungle of Hong Kong only enhanced her desire to pursue a career in wildlife Conservation.  Having worked all over the world within different conservation fields; Safari guiding in Africa, release programmes in Hong Kong, rescue centres across southeast Asia, research and education in Hong Kong, Borneo, Cambodia, slow lorises have kept a tight grip. There has always been an element of slow loris aid to her work since their first encounter at Kadoori Farm in Hong Kong which guaranteed them the place as her research species for her MSc Primate Conservation at Oxford Brookes.  Lara is passionate about fighting for the underdog, the little known species.  She is now working behind the scenes coordinating the first IUCN/SSC Conservation Action Plan for the Asian Slow Loris and any other roles necessary to keep the project in the field running smoothly.  lararogers@hotmail.com
Stephanie Poindexter – PhD Researcher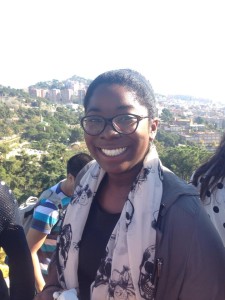 Stephanie received her Bachelors of Art in physical anthropology from Washington University in St. Louis. While studying in St. Louis she worked as a behavioral research intern at the St. Louis Zoo focusing on the Somali wild ass and the Channel Island fox. For her senior project she created activity budgets for four captive chimpanzees being housed at the zoo. Following graduation she spent six months working at New World primate sanctuaries caring for more than 50 marmosets, tamarins, capuchins and spider monkeys. Currently, Stephanie is studying to get her MSc in Primate Conservation at Oxford Brookes University in the United Kingdom. Through her work with captive animals, she has developed an interest in captive management, specifically animal welfare. For her MSc thesis she will evaluate the effectiveness of various food related enrichments (i.e. Gum and nectar) on reducing stress and improving captive loris welfare.