Hi everyone, my name is Priscillia Miard and I have been working with wild slow lorises since 2012 where I first discovered them in Sabah, Borneo. I did my MSc at Oxford Brookes University after visiting LFP in Indonesia. After finishing my studies in the UK I knew I had to do more to help save slow lorises from extinction. So, after my MSc I went to Brunei to meet some amazing people working to save the slow loris and we decided to organise a workshop with the Government for the World Wildlife Day.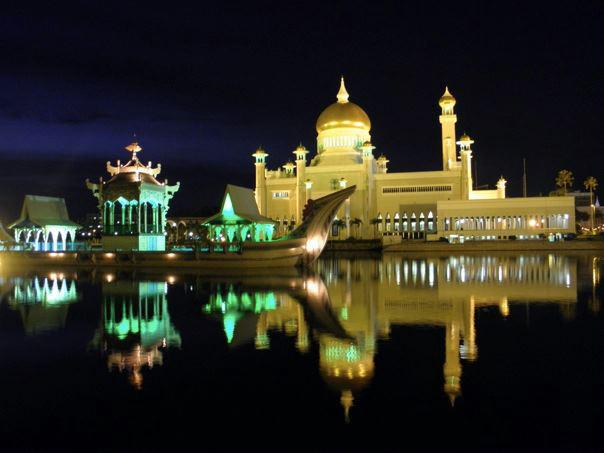 Before I present the work we did I would like to share with you my amazing journey in Brunei, a small country on the island of Borneo with amazing forest and wildlife, often underestimated by tourist and scientist. Before I talk to you about what we did there I want to present you Brunei a bit. Brunei have amazing mosque such as the Sultan Omar Ali Saifuddin Mosque. They also have amazing forest, beach and food.
In Brunei slow lorises and other animals are in danger mostly due to pet trade on social media as animals are rarely sold in markets.
It was a long process to find funding to organize this event but we managed to be sponsored by Columbus zoo in the US. This was amazing news as it was my first success at obtaining a grant and organising something this important.
The workshop was designed after work done by LFP since 2007 and with recent scientific findings. Everything went really well and here it goes we organized a workshop on the 2nd of March 2017 with people from the government, from the wildlife Division, customs, tourism, forest department and many more. We also had participants from three local organisations, Brunei Nature Society, BruWild and Heart of Borneo. We invited Nancy L. Gibson founder of LoveWildlife in Thailand to come give us a talk about their work with rescued slow loris.
We also organized a field training to study nocturnal mammals on the 4th of March 2017 at the Tropical Biodiversity centre managed by HOB (Heart of Borneo). All the participants were really happy to learn new facts about slow loris and the importance to use red light to watch nocturnal animals. The work done by LFP is helping slow lorises all over South East Asia and not just in Indonesia.
I just want to thank the Columbus Zoo for their support for this project and Little Fireface Project for the help since the beginning to follow my passion and make this event successful. I would also like to thank everyone in Brunei who helped me along the way to organise this event and make it successful; Bud Chapman, Jungle Dave, Dr Ulmar, Joremy tony, Lin Ji Liaw, Haji Safwan Bibi and Mr Mardani Haji Mahadi head of Wildlife Division, Ministry of Primary Resources & Tourism.
And remember that everything you do everyday have an impact. So just make sure it is the right one, the one that will help us enjoy nature and animals in the future.
Priscillia Miard, MSc