...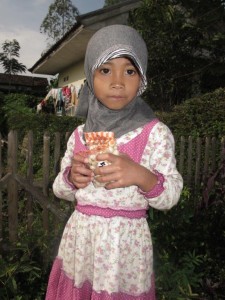 I come from Melbourne, a vibrant and eclectic city in Southern Australia. Melbourne is known for its world standard shopping, glorious cafes and food … oh the food!
Now I am based at what seems like a world away in a little village on the side of Mt. Papandayan, an active volcano in West Java, Little Fireface Project's home base.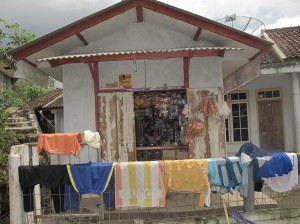 Although there are no fancy clothes stores, restaurants or chic cafes, I am pleased to say that this means  there is not a  fast food outlet, 7 Eleven, Tesco or Costco in sight.  I don't miss any of these conveniences; in fact not having these large and somewhat ugly stores in the village is part of the local charm.
Our shops are all run by local people and you can find one in just about every 'block'.  At a glance they look small, but they are like Dr. Who's tardis; they always seem to have exactly what you need tucked away somewhere. Coffee, washing powder, sugar, garlic, environmentally friendly light globes … Tidak Apa-Apa (No Problem)!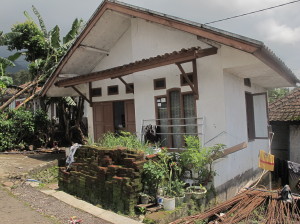 These are just some of the local stores that we visit on a regular basis. Some are mobile and visit the children's schools, others stay put. The colourful products hanging from the windows and walls contain everything from coffee, to crisps, to vitamins.
Charming aren't they?
Sharon