...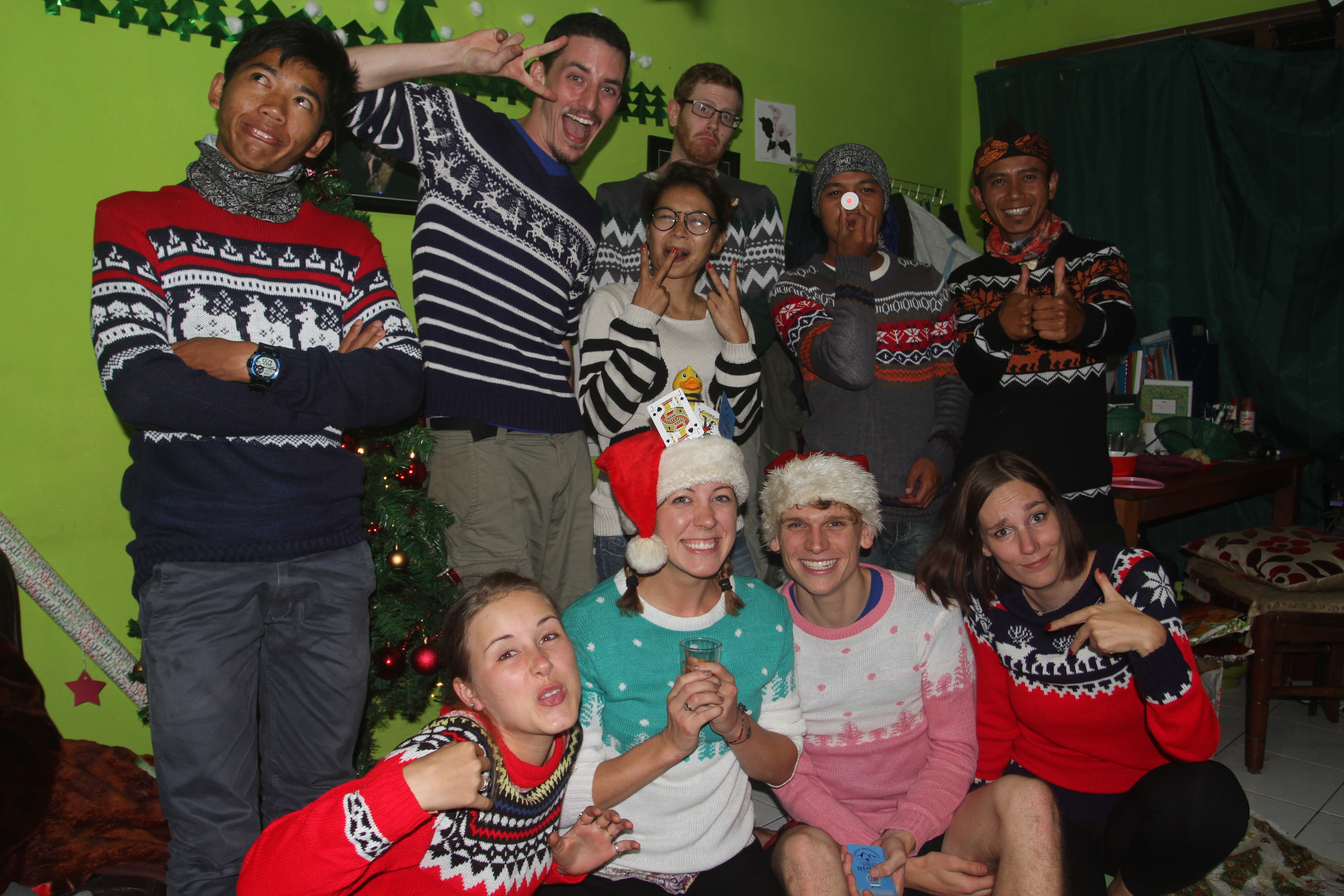 For many of you reading this blog, Christmas will be a time of family, togetherness, and food and presents. I'm sure that for all of the team here, it is no different. But unlike other years, we weren't at home with our families. Instead, we were here in Rumah Hijau on the side of a volcano in Indonesia. And that doesn't mean we don't celebrate Christmas!
The preparations started weeks ago – visitors from England were asked to bring things like stuffing and fairy lights, Christmas photos were taken to send as postcards to family and friends. Whenever we went into the city, we'd scour it for Christmas-related goodies. As the weeks passed, we soon found our house filled with a Christmas tree, handmade decorations, and even Santa hats. The atmosphere was settling in.
Christmas Eve we spent with our Indonesian team of trackers. An international dinner graced the table, with Dutch "stamppot", Indonesian rice with kecap manis, American broccoli bites, and German red cabbage. We all tucked in and had a brilliant evening. 'I loved the Christmas karaoke,' says intern Ina. We sang Santa Baby like our lives depended on it and even the trackers joined in for Jingle Bells!
Christmas Day started with Harry Potter. The first film was well on its way by 10am, and the girls dove into the kitchen for a second Christmas meal. We exchanged presents and Steven the cat happily snoozed on the blankets. Secret Santas were revealed as Harry was still trying to defeat evil in the background. 'It was great. I really enjoyed the special effort that everybody made to make it feel like home,' says coordinator Rob.
And although it is never easy spending Christmas away from family, the house did feel like a second home. Considering that we're a bunch of biologists thrown together at random, we all make a pretty good adopted family. So I'd like to say a warm thank you to my colleagues, and a merry Christmas and happy new year to you! Keep an eye on the website to see what the new year brings us and the lorises here in Java.
Faye Vogely, PR & Outreach Coordinator