Professor Anna Nekaris – Director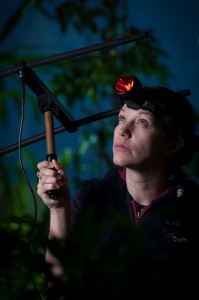 Prof Anna Nekaris is a world-renowned Professor in Anthropology and Primate Conservation studying the unique group of evolutionary distinct primates known as the Asian lorises.  Her studies cover all eleven species, including six she named or elevated from subspecies.  Anna is the Course Tutor for the highly acclaimed MSc in Primate Conservation at Oxford Brookes University, Director of the Little Fireface Project, Co-Editor-in-Chief of Folia Primatologica and Convenor of the Nocturnal Primate Research Group.
Laura Beasley – Field Station Coordinator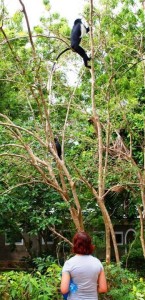 Laura completed her undergraduate degree at Oxford Brookes University in Anthropology and went on to work in all areas of a Colobus Conservation in Kenya. She then moved into conservation and volunteer management in Costa Rica, and has now come to LFP as Field Station Coordinator to support the team and help develop the outreach and education programmes.
Elena Racevska – Research Coordinator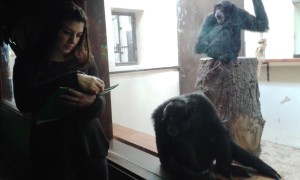 Elena completed an MSc in Primate Conservation at Oxford Brookes University, as well as an MA and a BA in Psychology at the University of Zagreb. She volunteered at the Zagreb Zoo for over a year, working with primate species, such as chimpanzees, ring-tailed and white-fronted lemurs, mantled guerezas and Hanuman langurs. She did a master's project on human-animal relationships between captive western lowland gorillas and their keepers at the Paignton Zoo Environmental Park (UK), also studying gorilla personality and intergroup dynamics.
Dendi Rustandi – Project Manager and Head Tracker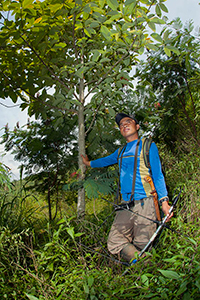 Originally from Pengelangan, Bandung, Dendi is an entrepreneur turned conservationist. Not only can he expertly guide the researchers and volunteers through the intricate maze of Cipaganti's agroforests, but he also is adept at tracking the lorises and understanding the intricacies of their behaviour and their importance to the village ecosystem. Dendi was devastated to learn that the slow loris is being imperilled by the wildlife trade and hopes one day to save large tracts of forest in the area. He is a passionate educator and uses these skills to teach children and adults that lorises are a vital part of the  ecosystem, and why they should be proud to be the protectors of one of the World's Top 25 Most Endangered Primates.
Aconk Ahmad Nugraha – Tracker and Agroforestry Officer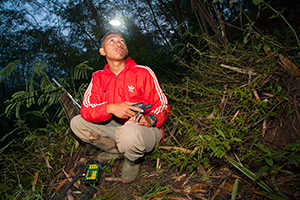 A Jack-of-all-trades, Aconk joined LFP as a 'junior' tracker, but it was clear straight away that his skills at finding lorises were above par, next earning him the full title of Tracker. Since then he has started a degree as a teacher, and has become our Agroforestry Officer. Aconk is from Cipaganti and has an intimate knowledge of the village. He helps to integrate what we learn about lorises into our conservation education programmes and is a vital link to the farmers of Cipaganti for our new agroforestry project.
Adin Nunur – Tracker and Welfare Officer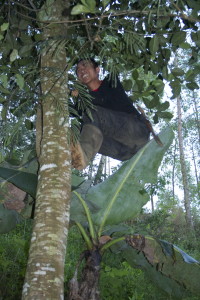 Adin had never heard of a slow loris before joining the LFP team and is a prime example of why our work is so important. He is now a dedicated member of the team, and knows more about slow loris behaviour than many people in the entire world. Adin guides both our researchers and our volunteers through some of the most difficult terrains in Cipaganti's agroforests, always with a smile. He is skilled at handling slow lorises in a way that makes radio collaring them a fun experience as his kindness transfers to these trusting animals!
Yiyi Muhammad Nazmi – Tracker and Camera Trap Technician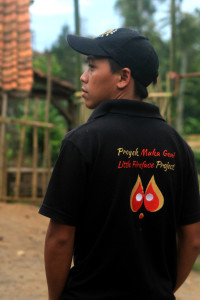 Yiyi is a highly experienced tracker with many years spent discovering and learning about the region's more elusive, nocturnal wildlife, partly through his expert knowledge in placing the project's camera traps. The importance of the Javan slow loris in West Java and the project's goals for its continuing survival is a passion shared by Yiyi. The continually enthusiastic Yiyi is also fantastic at conducting all night follows of our focal animals!
Rahmat Hidayat – Tracker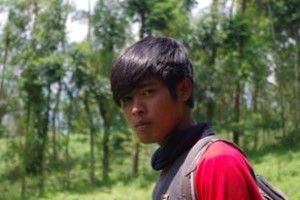 We first met Rahmat during farmer surveys. After interviewing him for Agroforestry we were surprised to see him the next day when he arrived at the LFP house for a job interview! The slow loris was new to Rahmat as it was with all of our trackers when they joined us, however, he has discovered a keen interest in working with them! His ability and enthusiasm means Rahmat is quickly becoming skilled in all areas of research, from tracking, to mapping, to capture.
Stephanie Poindexter – PhD Researcher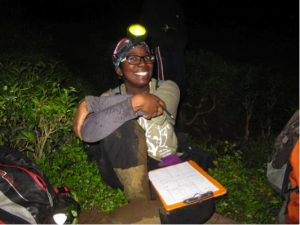 Stephanie received her BA in Physical Anthropology from Washington University in St. Louis, where she worked as a behavioural research intern at the St. Louis Zoo focusing on the Somali wild ass and the Channel Island fox. She later created activity budgets for captive chimpanzees housed at the St Louis zoo. She next worked at a New World primate sanctuary caring for more than 50 marmosets, tamarins, capuchins and spider monkeys. In 2014 she completed her MSc in Primate Conservation at Oxford Brookes University. Her MSc thesis evaluated the effectiveness of food related enrichments (i.e. gum and nectar) on promoting slow loris behaviours and postures. Now Stephanie is working with LFP on improving slow loris reintroductions through pre-release preparedness and measuring their spatial cognitive capacity.
Kathleen Reinhardt – PhD Researcher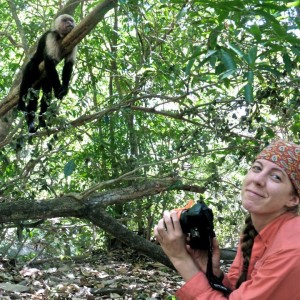 Kathleen earned her BA in Anthropology at SUNY Stony Brook University, where she studied the Milne-Edwards' sifaka and collaborated with scientific illustrator, Stephen Nash. After completing her undergraduate career she pursued field research in the Peruvian Amazon and Costa Rica, studying wild primates. She joined the team at LFP while doing an MSc in Primate Conservation at Oxford Brookes University, examining climate effects on Javan slow loris behaviour and microhabitat use. Now, for her PhD, she is examining physiology and torpor use by Nycticebus species in relation to ecological restrictions and climate change projections.
Dan Geerah – Volunteer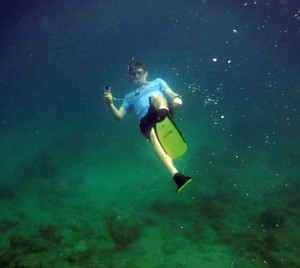 Dan is a Zoology BSc undergraduate from Cardiff University, UK, who is spending his third year studying slow lorises at LFP. His interests in primate conservation started when he volunteered at the Gibbon Rehabilitation Project in Phuket, Thailand in 2012. He recently visited Tobago where he looked into the social networking of a Caribbean reef fish species. Dan will be conducting his own mini project alongside aiding LFP in their work, where he hopes to provide enthusiasm into this worthwhile study of these cryptic primates.
Nadia Muqaddam – Volunteer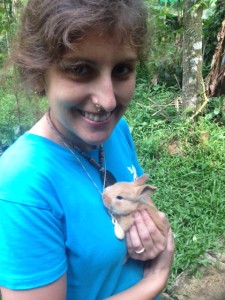 Nadia comes to LFP as a volunteer researcher. Previously, she worked at Cikananga Wildlife Rescue Centre in West Java as a keeper for six months. She is looking forward to expanding her education to include lorises in the wild as well as captive lorises. In her previous life, she studied music as well as working in a band and at Trader Joe's. Her passion, however, has been lorises since she first saw one thirteen years ago at Cleveland Metroparks Zoo. She is excited about continuing her loris studies both here in Cipaganti and in the future.
John Thompson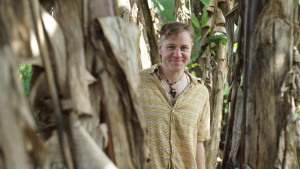 American composer and musician John HC Thompson is on a one year sabbatical in Indonesia.  He is here to absorb this unique culture and indulge his passion for the conservation of the natural world. This quest began with a six month stay at the Cikananga Wildlife Rescue Center, and  he has now come to LFP as a volunteer researcher.  After his captivity experience, he is excited to at last see the slow loris in its wild habitat, and help in the collection of data that can make the species thrive.  In addition to this, the agroforestry division of LFP is perfectly suited to this avid gardener and outdoorsmen.  Mr. Thompson will have his hands dirty and his mind clean. 
Wita Astika – Education Assistant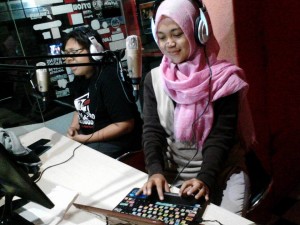 Wita comes from Garut and currently lives in Cipaganti. She's 22 years old and is studying at the Sekolah Tinggi Keguruan Ilmu Pendidikan (STKIP) Garut. She majors in English and has joined LFP as a translator and to help with education. She is a broadcaster on a local Garut radio station. Her hobbies include singing & entertainment.
 Francis Cabana – PhD Researcher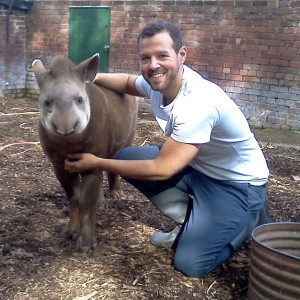 Francis was born in Canada and moved to the UK to complete his MSc in Zoo Conservation Biology. He worked as a nutrition researcher at Paignton Zoo Environmental Park. When he started working on the pygmy slow loris diets, he quickly realised that the current husbandry manuals were not up to par. Lorises started to be the centre of his research topics and somewhat of a healthy obsession. He has  shown that feeding lorises their naturalistic food items can not only impact their health but also their behaviour. Francis is now a PhD student, researching the feeding ecology and nutrition of the Javan slow loris. His goal is to have concrete evidence to positively affect how zoo held lorises are fed in zoos and rescue centers.
Priscillia Miard – Little Fireface Project Researcher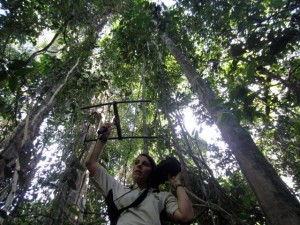 Priscillia has been fascinated by animals since a young age. She obtained a BSc Biology form University Joseph Fourier in Grenoble, France. Next she completed a MSc in Biodiversity, Ecology, Environment; she went to Borneo, Malaysia where she studied the ecology and behaviour of Philippine slow loris using radio tracking. She next went to the UK to pursue her MSc in Primate Conservation from Oxford Brookes University, and now works in loris occupancy research using thermal camera techniques as well as conducting awareness workshops in the region. Through her work with wild animals she wants to understand the local population perceptions of cryptic animals and how these beliefs and interactions can influence the survival of this species.
Omar Badr – LFP Videographer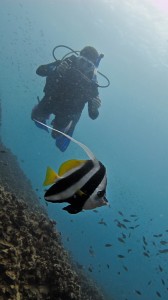 Omar completed his undergraduate degree at Brunel University in Film and Television Studies and went on to work on a number of wildlife videography projects. His film "The Odd Couple" went on to be shortlisted in a number of film festivals including the San Fransisco International Ocean Film Festival. He has come to LFP as a videographer to help develop outreach and education videos.