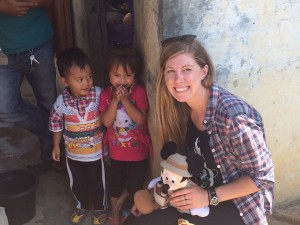 Katie—known by the children of Cipaganti as "Miss Keti" or "Hello Kitty" – is our new PhD student from Oxford Brookes University. She is from Long Island in the United States, where she studied the Milne-Edward's sifaka and scientific illustrations at Stony Brook University. Katie was with us in 2014 for her MSc research in Primate Conservation, looking at the effects of climate on behavior and habitat use of Javan slow lorises. Complimenting her love for the area and kind people of Cipaganti, she found the lorises so enthralling, and inspiring many unresolved questions that she decided to return for her PhD.
Katie will be studying climate-mediated energetics and torpor use by Javan slow lorises in the context of climate change and evolution.  She aims to produce a testable model to predict behavioural responses to future climate change that will be relevant for conservation of slow lorises and other species in similar dilemmas. She hopes these results will aid rescue centers to help choose appropriate geographic sites for re-introductions as well as conservation management.
Katie will also be investigating the potential role of Javan slow lorises as pollinators for Calliandra calothrysus — a floral inflorescence from which lorises consume nectar—more commonly known as "fairy-dusters". Farmers in the area have planted these throughout the agroforest area, because they are known to improve soil richness. Sharing these findings throughout loris ranging areas, she aims to increase awareness of slow lorises and the benefits they have to farmers and their ecosystems.