Hello, everyone!
My name is Elena and I have just taken over from Rob as the new research coordinator here at the LFP field station in Cipaganti. While I have lots of research experience, this is the first time that I am working in the field. I am so excited to be here, and I will share my field adventures with all of your through LFP's Facebook page every Saturday!
I have arrived to the site almost one month ago, and every day since I got here, I have come to the same conclusion – coming here was one of the best decisions of my life! First of all, the nature around our village is stunning! My home country (Croatia) has a lot of beautiful nature that I have spent some time exploring, but this is, of course, a completely different story. Going out to the field feels like walking straight into an issue of National Geographic! Banana trees and bamboo everywhere, endless fields of a local crop called labu, and misty mountain tops in the background – it really cannot get better than this!!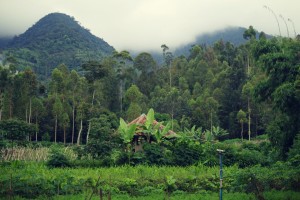 That is, of course, what I thought before I went on my first night shift! My first night was a rounds shift – two of our trackers and I went to check on all of our lorises. I cannot describe how anxious I was to finally see a loris in the wild after hearing so much about them through all of last year (LFP director Anna Nekaris is my MSc course leader, so we are all pretty familiar with slow lorises!). The experience was unbelievable – their little eyes glowing bright red under our head torches made an impression that will last a lifetime! On top of that, we saw two common palm civets – after having a carved wooden one on my necklace for over a year, I was overwhelmed by finally seeing real ones! We also came across a leopard cat –  after the runaway civets that could not get away from us soon enough, the leopard cat seemed like the most calm and collected animal in the world, completely unimpressed by our presence and proximity!
Since this first night, I have followed our lorises for a couple of nights each week. The moments I spend in their proximity are nothing short of magical. Having the opportunity to get so close to such an endangered animal is an incredible, yet humbling experience. Between them, all the little colourful insects, frogs, birds, and an occasional snake, I feel like I am finally in a place where I have always wanted to be! I had my first field-birthday this week, and I was lucky enough to spend it observing Sibau, one of our females. Needles to say, it was the best birthday ever!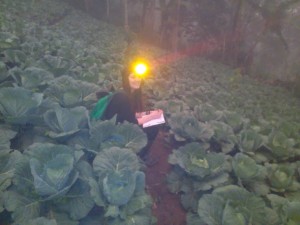 Living in Indonesia has so far been completely amazing. Every day is a new adventure, and even though everything is so very different from other countries I have previously lived in, it somehow feels like home.
If you want to hear more of my Indonesian adventures, follow my weekly updates on the LFP Facebook page every Saturday!
Until then, have a nice week!
Elena, Research Coordinator