...
New research, which has assessed the impact of a children's storybook on a Critically Endangered species – the Javan slow loris – has been published today (Monday 14 August).
A team of researchers from Oxford Brookes University, Gadjah Mada University, Indonesia and the Little Fireface Project produced a book and education programme designed to teach children about the nocturnal primates that are under threat because of being captured from the wild and traded illegally as pets.
Professor Anna Nekaris, Professor in Primate Conservation and Anthropology at Oxford Brookes University and Director of the Little Fireface Project, wrote the book and was the lead author of the study. She said: "After assessing more than 50 books written for primate conservation projects, I was shocked to see that more than 80% of them contained scenes of fire, animals in tears and death. Education theorists have pointed out that such story writing can be destructive and cause readers to have a sense of hopelessness, or even sadness and fear.
"Children's books should spark imagination and be delightful – with this in mind, the book was carefully created so that children would want to return to read it again and again."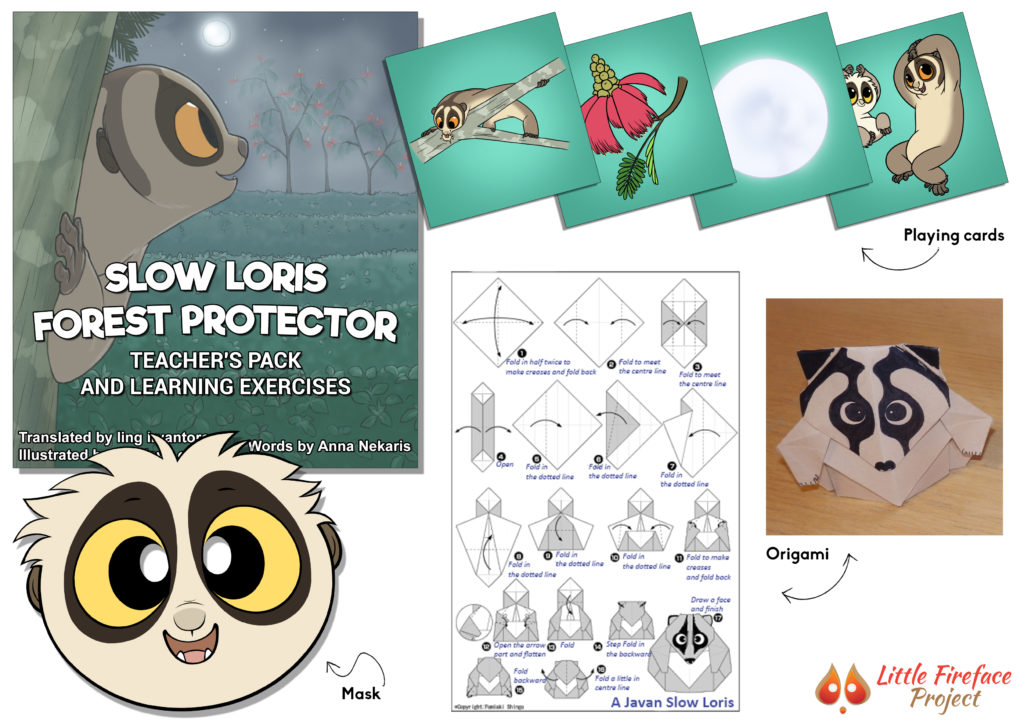 The book, which is entitled Slow Loris Forest Protector, follows the story of a mother and son slow loris moving through their agroforest environment. The mother teaches her son how to find food, including flowers that they pollinate and insect pests that harm farmers' crops. The depth of the family connection is emphasised, as well as the need for the young loris to learn from his mother. The moral of the story is that by leaving the primates in the forest, they are more helpful to humans than by keeping them in one's home.
More than 1000 children aged between 8 and 12 years, took part in the research team's education programme study, which took place in West Java. More than 500 children took part in a cultural consensus assessment – a technique normally used by social scientists- where children were asked to write an essay on everything they knew about the slow loris.
Before reading the book, many of the children appeared to know little about the slow loris, describing general animals rather than details specific to the primate. Those who appeared to know a little more, wrote that it lived in the forest and was brown in colour.
After the children took the book away for three months, the team returned to the schools and asked them to write a second essay. In the second essay, the children could not only repeat almost all key concepts in the book, but many had discovered that slow lorises are protected, that it is illegal to catch them and some learned the penalties. One nine year-old boy wrote:
"Slow lorises are the protectors of the forest. They love to eat pollen from Calliandra flowers and gum from the jiengjeng trees. They have big teeth that are useful to not only protect the forest, but also help the farmers by eating the pests off of their crops. Slow lorises should be protected because they are special and have toxic venom. If you catch a loris, you will go to jail for 5 years. Even though they are already protected by the government, we should protect them more."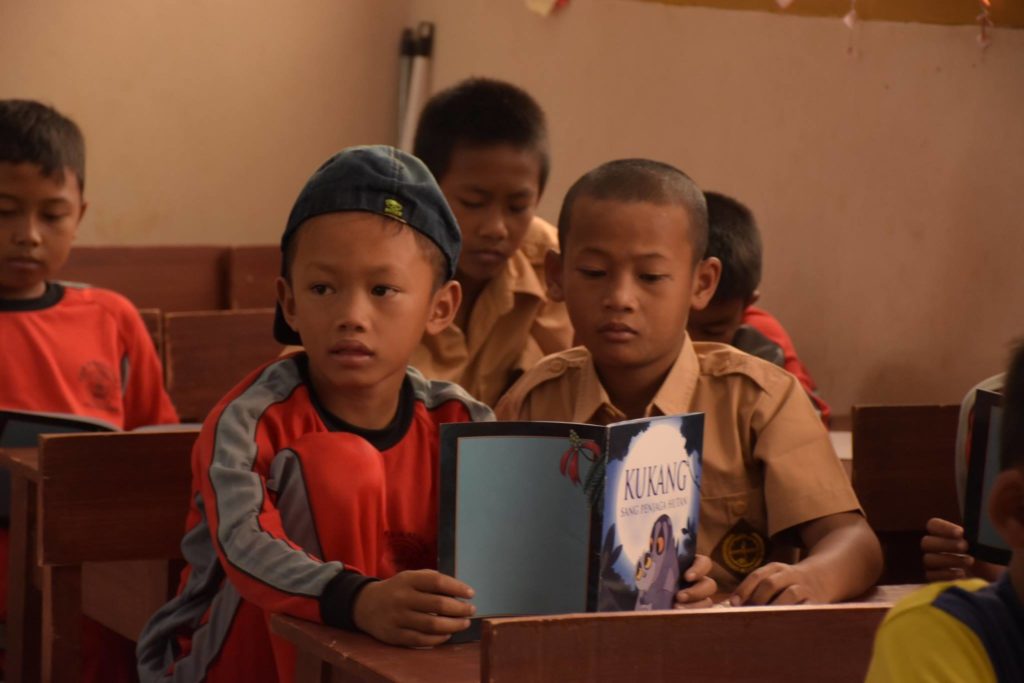 Professor Nekaris continued: "By asking children to write their own creative stories, we could truly see what they learned. We could also see that they clearly read the book in their homes and sought information from adults on what they could do to help the slow loris."
Co-author of the study Denise Span, who led many of the teaching sessions, commented: "The drawings in the book were so magical, it was easy for the children to become engaged. We were very careful not to mention any threats to slow lorises, but kept the entire first session positive so that children could immerse themselves in the knowledge of this animal they were learning about for the first time."
Indonesian co-author from Gadjah Mada University, Muhammad Ali Imron, notes that this novel approach of assessing conservation education programmes can make a substantial contribution to the Indonesian government, NGOs and Universities. Imron said: "This multi-disciplinary approach to conservation programmes was overlooked by many conservation initiatives in countries that face many threats to their endangered species, such as Indonesia. We have so many conservation education programmes but until now, evaluation has been limited."
The book and associated education programme were self-published with funding from People's Trust for Endangered Species, Lush Charity Pot, Born Free Foundation, Cleveland Zoo and Zoo Society and Augsburg Zoo. The book Slow Loris Forest Protector is available for sale in English on the Little Fireface Project Etsy Shop and all proceeds go directly back to funding slow loris conservation. Free translations of the book in Indonesian and Vietnamese can be downloaded from the Little Fireface Project website here.
The research paper is published by the scientific journal Conservation Biology and can be found online. http://onlinelibrary.wiley.com/doi/10.1111/cobi.13023/abstract
More information about the slow loris and the Oxford Brookes University's conservation work can be found on the Oxford Brookes website.
For more information or to arrange an interview please contact Natalie Gidley Communication Officer (Media Relations) at Oxford Brookes University on 01865 484630 or ngidley@brookes.ac.uk.
Notes for Editors
Set in a historic student city, Oxford Brookes is one of the UK's leading universities and enjoys an international reputation for teaching excellence and innovation as well as strong links with business and industry. More information is available on the Oxford Brookes website at www.brookes.ac.uk
People's Trust for Endangered Species has been helping to ensure a future for many endangered species throughout the world since 1977. Visit www.ptes.org for more information

Anna Nekaris founded the Little Fireface Project in 1993 under the auspices of the Nocturnal Primate Research Group of Oxford Brookes University. Visit

http://www.nocturama.org/ for more information

Since 2007, all species of slow lorises have been included on Appendix I of the Convention on International Trade in Endangered Species of Wild Fauna and Flora (Cites), precluding all international trade.