23-29 October 2016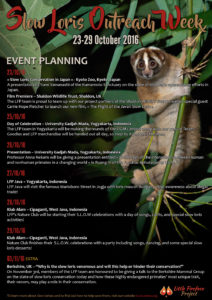 Slow Loris Outreach Week 2016 is quickly approaching! You can help us celebrate anywhere by spreading the loris love, talking about slow loris conservation with your friends, and even holding your own events locally.
Download and print our free S.L.O.W. flyers to help spread the word!
You can also support slow loris conservation by using one of our special edition Facebook banners on your page.  You can find games and activities below as well as our new line of S.L.O.W. 2016 Facebook banners and matching profile pictures in multiple languages (English, Chinese, Portugese, Thaï, Swedish, Polish, Norwegian, Croatian, Spanish, Icelandic, Dutch, Bengali, Italian, etc...) all ready to download for free!
So please download, share, and care that Slow Loris Outreach Week is coming.
Activities: