...
Posted on 18/03/2012
Our beautiful little firefaces are chosen to highlight two major conservation campaigns.
From the TRAFFIC SE ASIA'S web site:  A YouTube sensation and a counterfeit cure for HIV/AIDS are amoung the starts of a campaign by the Body Shop West Malaysia and TRAFFIC Southeast Asia calling for urgent action to stop illegal wildlife trade.
The Slow Loris, one of the 25 most endangered primates in the world, shot to fame after various videos of the animal's cute antics on YouTube went viral.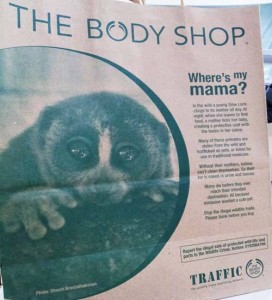 A public enamoured by its cute and cuddly appearance is fuelling the illegal trade with little realization that Slow Loris infants are often stolen from their mothers to cater for the clamour for the adorable pet.  The mothers are often killed or sold separately – either way leaving the young on their own with little hope of survival.
The Slow Loris and its story will front the 'Where's My Mama? 2.0@ campaign by the Body Shop and TRAFFIC that aims ti raise awareness amoung consumers about the impact their chosices have on nature.
The Slow Loris is also hightlighted in EAZA IUCN/SSC's Southest Asia campaign to save biodiversity.