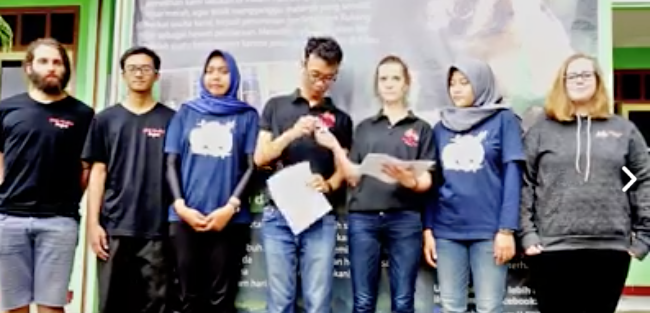 I'm Sapphire and I have come to LFP as part of my BSc in Zoology at Cardiff University. Almost two months into my placement year and I am loving it here. I enjoy the culture, the people, the family that the staff and volunteers have become and obviously the wildlife! I will be studying positions of loris bridges alongside helping out with the behavioural observations throughout the night and helping to teach children English in a school in Garut. Some days are busy busy busy, and this is one of them.
When you first wake up you hear the mosque prayers, the motorbikes zooming past the house, the chickens squawking and the hustle and bustle of this small village you've made your home. As you make your way to the kitchen, four cats surround you for attention (and most likely food) and after a good cup of tea (in my case at least) you are able to start your day.
After some breakfast I'm ready to head off to Garut with Imanol, a Spanish student working on his master's thesis here at LFP. Walking down the steep hill I live on we greet women, children and men of the village. "Pagi" I say with a wide smile. We reach the bottom where bikes are heading back and forth, with the help of the garage and gas pump workers we find a couple of ojeks to take us to Bayongbong. After a peaceful and slightly bumpy ride we find ourselves shuffling onto an ankot (a small little bus) to Garut.
Once there we meet Dika at the school. He is a lovely man who helps me, and the other volunteers, learn Indonesian for a couple of hours each week. After improving my language skills I go on to teach a class of children some English. This week – similes. The hour flies by as I interact with each student individually and as a class. It's suddenly 5pm and time to head back to the field station.
Fast forward to the late evening. After a short nap I am ready to spend my next 6 hours as a nocturnal primate. With an excited jig in my step Imanol (in training), Dendi (one of our incredible trackers and project manager) and I make our way up the mountain hiking in-between the agricultural land and forest fragments searching for a signal on the chosen slow loris of the night. After climbing on all fours up vertical terrain and sliding down muddy fields we finally found Mikio and the data collection begins. Suddenly it's 5am and time to head home. As the sun rises, the view of the distant Mt. Cikuray catches my eye while the sun rises creating a stunning silhouette against the sky. I finally get into bed at 6am after a quick fuss with the cats and fall asleep at peace ready to see what the next day will bring (well afternoon onwards, I need at least a few hours' sleep!).