...
People often speak of culture shock when you go to visit, live or work in a new country. And accompanied come the warnings- don't drink the water, don't eat food from street stalls, watch your belongings very carefully… and so forth. Before coming to Java I assumed that my upbringing had made me immune to the shocks provided by a different culture, after all I've grown up in countries which few have ever visited such as Rwanda and Ivory Coast. But 9 months in Java has taught me otherwise.
Culture shock happens anywhere, any time and apparently to anyone.
One of the biggest shocks- Indonesian weddings: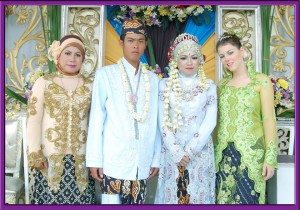 One of my favourite moments was in my second week. I had just unpacked my bags and started to settle in when my housemate said we were going to the salon for a makeover. Turns out we were modelling wedding dresses!
Firstly, they put on layers and layers of makeup- I felt like I was wearing a mask and when I thought they could not put on anything more, out came the fake eyelashes. I ended up with 4 pairs on each eye and one eye glued shut. After boiling in a white "western" style wedding dress we were asked to model Indonesian wedding dresses. Mine was red and from Nothern Sumatra with a beautiful and very extensive headdress, making me feel like a real princess.
In Indonesia, the bride gets married in any colour she wants and he groom has an outfit to match. I soon learned after attending a range of weddings that on the big day it is normal for the newlyweds to wear 2 or 3 different coloured outfits so that they have a range of different photos. And one is more beautiful than the next.
An Indonesian wedding is quite an experience! The couple sits on a stage and welcomes all the guests. You are then pushed towards the buffet and unless you hold on to your plate a little old lady (usually one of the parents) will continuously ask you if you have eaten and try and get you to eat even more! The problem: the food is always very spicy and my Dutch palate cannot handle it. So if you go to Indonesia make sure you remember how to say "I am full thank you."
And then comes the dancing! There is always an additional stage with a band or traditional instrumental music. Dancing will only occur on the stage and everyone wants to see you dance. So when the little old lady is finished asking if you have eaten, she will come round another 10 times to ask you to go and dance… on the stage. But you soon learn to go with the flow and if you dance one song she stops coming by and has the biggest smile on her face. The wedding usually goes on for several hours with the bride and groom sitting on one stage and the guests dancing on the other.
Greetings from Java,
Denise