Madrasah Ibtidaiyah Al-Hidayah adalah sekolah muslim yang bernuansa Islami dan berdasarkan Quran mencetak anak yang beriman dan berperilaku baik.
MI Al-Hidayah berdiri pada bulan Juli tahun 2009. Pada tahun didirikan, kami mempunyai staf pengajar hanya 3 orang termasuk saya dan mempunyai siswa angkatan pertama hanya 10 orang.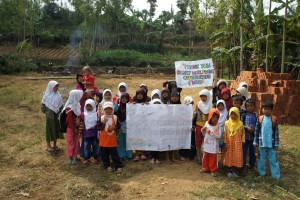 Mengapa, saya mendirikan sekolah Mi Al-Hidayah?
Karena jarak tempuh ke sekolah SD dari kampung saya cukup jauh dan banyak anak yang putus sekolah dengan alasan lelah jalan kaki.

Melihat daya tempung di sekolah SD sangat banyak pada saat itu. Kelas yang berukuran 6mx7m hampir ada 100 orang siswa. Kami berpikir lebih baik kami mendirikan sekolah baru.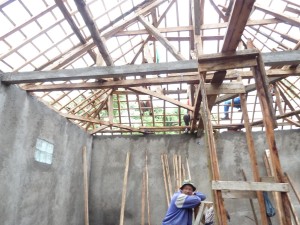 Dari tahun 2009 sampai tahun 2014 biaya operasional sekolah dan segala macam biaya saya sendiri di bantu donatur dari keluarga. Pada tahun 2012 kami menjalin kerjasama dengan LFP mengadakan sekolah Nature Club yang sampai sekarang masih berjalan.
Pada tahun 2014 di bulan September Al-Hamdulilah (Praise to Lord) kami mendapat sponsor dan dana bantuan dari LFP untuk mendirikan bangunan sekolah baru sebanyak lima kelas yang berukuran masing-masing kelas 6×7 m setiap kelas dan menghabiskan dana sebesar Rp. 179,675,000. Dana yang kurang kami mendapatkan donasi dari keluarga kami dan kami bisa menyalesaikan sekolah sebanyak lima kelas tersebut di lahan kami yg didapatkan dari wakaf keluarga kami.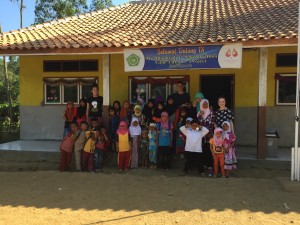 Pada bulan Januari 2015 Alhamdulillah bangunan sekolah kami dibuka dan diresmikan yang didanai oleh LFP dari semenjak itu. Sekolah kami makin berkembang dan banyak siswa. Sebanyak 88 orang.
Pada tahun 2016 di bulan Mei sekolah kami megajukan untuk mengikuti akreditas untuk menguji kelayakan sekolah yang berstandar Nasional dan hasilnya Alhamdulilah, Sekolah Mi Al-Hidayah sekarang sudah berakreditas B, dan mendapatkan biaya operasional sekolah dari negara, akan tetapi kami masih kekurangan untuk gaji guru sebanyak 7 orang. Untuk guru di sekolah kami yang 7 orang masih guru bantu yang tidak digaji seperti guru lainnya, hanya dibayar semena-mena bilamana kami mendapat donasi dari keluara kami.
Pada tahun sekarang di bulan Juli 2016, kami merayakan kelulusan anak siswa siswa kelas 6 angkatan ke 2 Mi Al-Hidayah yang disponsori oleh LFP dan Alhamdulilah acaranya sangat meriah yang dihadiri oleh 250 orang warga sekitar, bukan hanya LFP saja yang memberikan sponso, Alhamdulilah kami juga mendapat sponsor untuk kegiatan Paturay Tineung dari PT Al Zubara. Berkat itu kami bisa memberi santunan kepada seluruh siswa-siswa Mi Al-Hidayah anak yatim dan miskin yang ada di wilayah sekitar Mi Al-Hidayah. Semoga di tahun yang akan datang kami mendapatkan sponsor yang lebih banyak dan bisa lebih meriah lagi.
Harapan kami di tahun ini semoga kami medapatkan sponsor untuk membangun 2 kelas baru karena kami kekurangan ruangan untuk sarana dan prasarana belajar-mengajar yang lebih efektif karena di tahun sekarang total siswa di sekolah kami sebanyak 125 orang ditambah anak-anak PAUD (sekolah di bawah taman kanak-kanak) sebanyak 30 orang.
Ucapan terima kasih kami haturkan kepada The Little Fireface Project, PT Alzubara, dan seluruh keluarga yang telah membantu. Semoga apa yang telah diberikan kepada kami Tuhan Allah membalasnya yang lebih. Amen.
Introduction to Mi Al-Hidayah School
Madrasah Ibtidaiyak Al-Hidayah is a Muslim school which aims to develop good and religious behaviour to elementary students. Mi Al-Hidayah was built in July 2009, and when it first opened, we only had 3 staff (including myself) and 10 students.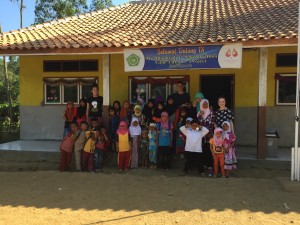 Why did we built Mi Al-Hidayah school:
The distance from the village to the nearest government school is too far that many students would not continue their education, just because they have to walk too far from their house.

Most of the time, the government school is overloaded. One 6×7 meters sized classroom almost has 100 students! So we thought it will be better if we have another school as well.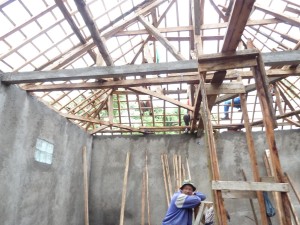 From 2009 – 2014 all of the school operational costs were covered by myself and donations from family members. In 2012 our school made a relationship with The Little Fireface Project to hold 'Nature Club', and it is still running now!
In 2014 we got sponsorship from The Little Fireface Project to help to continue to build the new school. So we built five new classrooms the size of 6×7 meters each. The rest of the money came from donations by our families so that we could finally build the classrooms the school needed on land donated by my family.
In January 2015 the build was finished and officially opened! Our school is getting better and better and more students come to us every year. In 2015 we reached 88 students – a long way from the first 10 in 2012!
In May 2016 Mi Al-Hidayah was tested for the government accreditation award which we achieved to level B. Now we also get operational funds from the government, but this is still not enough to pay our 7 teachers. The teachers in our school do not get paid in the way that teachers in other schools are paid – they are only given a wage if we get more donations or funding that month.
This year in July we celebrated the graduation of our students in class 6. Sponsored by The Little Fireface Project the event was great and 250 people came! The graduation was also sponsored by PT Al Zubara, which means that we can help pay for supplies and fees for for the orphaned and poor children attending and in the region of Mi Al-Hidayah.
I hope that in the next year we get more funding and the event can be even better! We hope in this year that we get more sponsorship to make 2 new classrooms so that we can hold more activities for the children. We now have 125 students plus 30 new kindergarten students – so these classrooms are needed to make their learning more effective.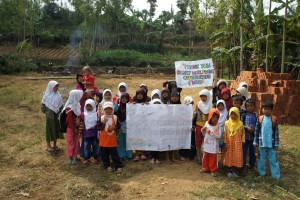 Thank you to The Little Fireface Project, PT. Al Zubara, and all the people who have helped us. I hope that God blesses you all.
Dendi Rustandi, Indonesian Manager