...
Continuing our series of interviews with our fabulous team out in Cipaganti, Java, today we introduce you to Dendi Rustandi, a 34-year-old entrepreneur turned slow loris expert extraordinaire! Our Research Fellow Sisil Putri conducts the interview…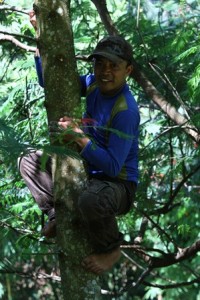 Tell me about your background staying in the Cipaganti village?
I was born and raised in Pengalengan (Bandung) in 1978. I move out to Cipaganti village following my grandmother after I finished my high school and I met my wife here; she's local to Cipaganti and we decided to live here.
2. What do you like about living in Cipaganti village?
I love the village atmosphere, the cold weather, a lot of fresh vegetables you can get here easily, and how the people know each other so well and are so kind to each other.
3. What's your impression on working for "Little Fireface Project"?
The project is challenging for me as I didn't know how to communicate with English,  but  now I can understand English a little. Also I found a lot of interesting new experiences from the project and so happy I have known some "bule" (foreigners) from this project.
4. What is your favourite thing and the hardest thing from the project ?
My favourite is to see slow loris carry the baby with them and the baby is just clinging there; it was so sweet and so happy to see.
The hardest thing about the project is when we have to go through bushes and bamboos; it makes slow loris hard to find and hard to see.
5. Tell me what you think the impact on yourself of the difference before and after you joined the project?
Through the project I can now  say that I understand English a bit and get nice salary from the project and I understand about kukang behavior from the research. It is such an experience to work in this project and revealing my village secret of having slow loris in the area and I realize as local people, we need to save them.
Before I know what kukang is and what they do, for me and family they are a very scary animal because I heard there were some people in our village who got bitten by kukang, which made them have treatment in the hospital. But after I work in this project and I know kukang better, I know understand what is kukang and their behaviour. I also get bitten by kukang from handling, but thank God that it was just okay by wearing gloves and I didn't need to go to the hospital. From this project I become to love to join the research every night to see these cute and rare animal.