Hi, Everyone! My name is Abdullah. I am from Universitas Gadjah Mada, Indonesia. I have been here for two weeks, so for the rest of this blog I'll tell you how it feels being a new Indonesian volunteer at LFP.
Well, the first LFP activities that I went through did not happen in Cipaganti Village. I went to Bekasi to attend a BGBJ (Bantar Gebang Bekasi Jawa Barat) event because the LFP team was learning how people in the area could recycle waste into profit. I also met two other new Indonesian volunteers there. We had a tour around a waste area and it was kind of an eye-opening moment to see that so many local people still lived around and from it and more than 2000 tons of rubbish were thrown there every day. Solutions are urgently needed!
After that, the team headed back to Rumah Hijau. When we arrived, the rest of the team who did not join BGBJ warmly greeted us. They are very nice and fun people. I had an experience of working with multinational team only for several weeks last year, but working and living under the same roof with them for months? I believe it will be another good story, which it turns out it is.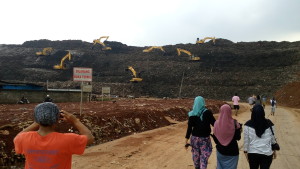 The next day, the workday began. We had a week full of training. We were trained about first aid and then I got practices on nectar and pollen collection, capturing, night observation, vegetation plots and loggers, and setting camera traps. This is something AMAZING because I never had a chance to do that while I was in college, except the vegetation plot. It's all novel to me, even the night observation because I had only ever done day focal observation for my undergraduate research and it's a little bit different.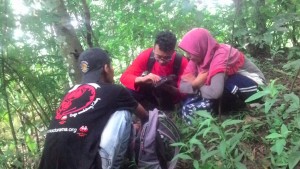 To be honest, I find it a little bit more challenging to work in the daytime rather than night. It is still Ramadan, a month where most adult muslims are obligated to fast from dawn to dusk and I fast, so when I do some activities such as vegetation plots and camera traps, the thirst and hunger are multiplied, especially because they require us to hike the steep terrain and I could not drink and eat anything at all until dusk. In addition, some trackers and people in LFP were getting sick due to the weather and I was worried about my health too when I had lower nutritional intake while fasting. Somehow, I managed to finish my tasks, complete the fastings, and stay healthy. I thank God for that.
The weirdest feeling in Cipaganti is maybe the mixed feeling of "Nooooo… I do not want a second shift for night observation. I just want to go to bed early…." since the second shift happens at 12 am to 5 am and the feeling of "Oh my God! It's so adorable. I want to know what kind of behaviours it will show us tonight" once you step up, get out of the house, move to the agroforest, spot the lorises, and observe their behaviours. It is such a pure joy when you witness that. Honestly, the feeling of I-just-want-to-sleep-right-now is still there, but it can not triumph that joyful moment of observing slow loris's adorable movement. Plus, sharing random stories with partners or trackers or enjoying the serenity under the moonlight of the Cipaganti agroforest are good options to spend the night while waiting for a slow loris to act.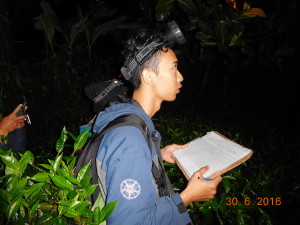 Volunteering here is already an amazing experience. I learn a lot of new things from the project and learning novel things is another pure joy for me. I don't know how to explain that kind of joy, but when you do it, you feel content. I believe  volunteering will be a great opportunity for those who want to embark on masters, Ph.D study, or getting involved in professional world of primate conservation. Also, the Javan slow loris is native to Indonesia, so we all as world citizens have an obligation to protect our endangered species, we Indonesians must work especially hard to protect them!
Abdullah, PhD Research Assistant