...
The collars that we use to track our lorises with are very light and we have never known the collar to be a cause of concern or annoyance for our lorises which we observe nightly. Leaving a collar on a loris that we don't observe often enough however, isn't fair. We have a female named Api, who recently dispersed from 1500m above sea level to 1800m above sea level, near the summit of our volcano, Mt. Papandayan. It is quite a trek to get there so observations were very rarely done. LFP trackers Aconk, Dendi and Adin and myself decided to pay her one last visit, and cut off her collar.
That was the hardest hike of my life. I have hiked in the cloud forests of Honduras, but this was different, I had to claw, climb, dig and pull myself to the top. The higher we got, the steeper and the more vicious the wildlife became. Stems, branches and leafs were often armed with spikes and prickly hairs. When I fell or slipped (which was often) naturally I would reach for anything to keep me from rolling down the slope. Grabbing those spike vines or branches helped because it made me instantly jump (and swear) so high, I practically flew to the top. No I mean it, I'm not proud to say I accidentally taught our trackers some absolutely foul language.
Three hours later we reached the top, I was so happy. Aconk quickly said "The signal is pointing down". I laughed. He wasn't kidding. Because of the many mountains in the area, the radio signals bounce off of the mountains. We had to climb down and up for another 2 hours before finding our fiery lady.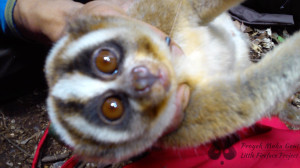 I was very happy to see, she was not alone! She found a mate in this secondary forest! We heard eagles calling overhead and circling. Clearly this area was harder to live in than in our field site but our lady could handle it. Our trackers climbed the tree, placed her in a pouch, we cut off her collar (I took a commemorative loris selfie) and then released her back to her husband. She was in very good condition but had little scratches on her hands which were healing. Seems I am not the only one to hate those thorny branches.
The hike down was treacherous. We had wandered so far, it was steep and muddy. I have made it pretty clear that I slipped often, but now I was to worry about sliding down, getting my feed tangles in vines or low branches WHILE already sliding down which ultimately results in my flipping over and sliding onto my stomach. My boots were getting so caked with mud from all the sliding that everything became slippery. Even dry wood and rocks. Basically put, I was doomed. I actually managed to flip over and kick Aconk in the back and cause a domino effect when trying to jump down from a ledge but got one foot tangled. Now if Aconk was an evil villain that would have looked awesome. Two and a half hours later, some scratches and a few pricks, I was home and Api was back asleep. I just hope her boyfriend didn't find her interesting only because of her sexy collar.
Francis