...
One of the most interesting facts about the slow loris is that it is the only venomous primate. Slow lorises produce a toxic compound from their brachial glands (a patch of bare skin from their inside elbow up to their armpits), which they lick to combine with their saliva and "activate" the venom. The reason why slow lorises are venomous is still somewhat of an unsolved mystery.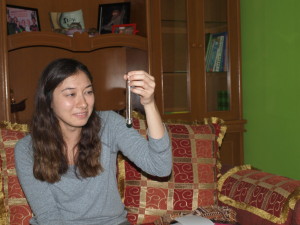 As part of my postdoctoral research with the Little Fireface Project, I am exploring some of the hypotheses for why slow lorises produce such toxic compounds. Is it to ward off ectoparasites, tiny bugs that live in their fur and potentially could transmit diseases to them? Is it to deter predators of the night, including owls, hawks, and eagles? Could the venom serve multiple purposes?
In order to answer these questions, myself and LFP volunteer Anna Zango have been conducting two separate phases of research. First, we have been conducting a series of experiments testing the responses of various insects to the venom of slow lorises, using a combination of saliva and brachial gland secretions. Second, we have been playing the sounds of predators to the lorises as they forage at night, to see if they have any interesting behaviors that might be related to using their venom. We have to carefully study their reactions, and some of the lorises actually move quite fast! Good thing Anna has such sharp eyes!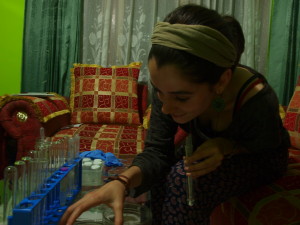 This project has been incredibly interesting. I never imagined to see such specific responses. So far, the data suggest that slow lorises are a lot more complicated, unique, and special than many people realize. So, I am really excited to continue this research exploring how slow lorises use venom as an adaptation.