...
By Noor Hanny Amalia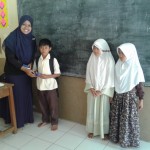 It's been 5 weeks since I first came to loris land. My name is Noor Hanny Amalia, a student of Biology Departement from the State University of Jakarta, and I joined the Little Fireface Project (LFP) through a Student Apprentice Project program. With interest in education, I hoped to work and and learn a lot about the education and awareness which LFP does, in addition to their outstanding scientific research.
Everything starts from zero, only armed with curiosity and courage which I collected bit by bit, I came in Cipaganti village, LFP research station, for the first time on 24th June 2014. I was greeted by the incredible views: 4 mountain flanking the station, an air that is always soothing, and friendly people.
Staying under one roof with colleagues from various countries: Canada, UK, Netherlands, Australia, and America, a new experience that gave me a lot of valuable lessons from different culture of each country to mutual tolerance lessons therein.
I was introduced to an endangered creature named Slow Loris (Nycticebus spp.). Always amazed when I could see it directly in nature, in plain sight, in the dark of the night but still radiating red light from their eyes. Together with the trackers, which guides us and explain the vegetation as well as foreign researchers along with other colleagues who are very open to discussion, the nightly trips were very enjoyable.
In addition to the experience of scientific research, experience in education and awareness I also learned many things. When first introduced to the Nature Club program, I instantly fell in love. This activitiy are held every Friday at the house of LFP's manager, the children at the primary level have been introduced with a love for nature through a variety of educational fun-based activities. Taught to be able to appreciate each of God's creatures, that we have the same right to live in the wild, so we should not hurt each other.
I also worked with LFP's Forest Protector program for elementary school students. I periodically visited schools around surrounding villages. This activity also involves the role of schools and teachers to form a class of a new way of thinking for the elementary school students, especially in grade 4, to get to know these endangered animals and their role in nature. So hopefully, can help LFP in an effort to maintain and conserve the existence of these rare animals in the wild.
Each day runs with a new story here, I did not see my last day flash by before returning to Jakarta and to my routine. Many memories have been created here, along with the trackers and also foreign colleagues at the LFP. Thank you very much for the many experiences here.
Bahasa Indonesia –
Sudah 5 minggu berlalu sejak saya menjejakkan kaki pertama kali disini. Perkenalkan, saya Noor Hanny Amalia, mahasiswa jurusan Biologi dari Universitas Negeri Jakarta, dan saya bergabung dengan Little Fireface Project (LFP) dengan program Student Apprentice Project. Dengan ketertarikan dibidang kependidikan, saya berharap dapat bekerja dan banyak belajar di bidang edukasi dan awareness yang diselenggarakan oleh LFP selain riset ilmiah yang luar biasa.
Segalanya berawal dari nol, hanya berbekal rasa ingin tahu dan keberanian yang terkumpul sedikit demi sedikit, saya menjejakkan kaki pertama kali di desa Cipaganti, stasiun penelitian LFP, pada tanggal 24 Juni 2014. Disambut oleh pemandangan yang luar biasa, diapit 4 gunung di setiap sisinya, dengan udara yang senantiasa menyejukkan, dan keramahan penduduknya membuat saya yakin bahwa perjalanan saya 1 bulan kedepan akan jauh lebih menyenangkan.
Tinggal 1 atap bersama rekan-rekan dari berbagai negara, Canada, Inggris, Belanda, Australia, dan Amerika, menjadi pengalaman baru yang memberikan saya banyak pelajaran berharga mulai dari memahami kebisaan tiap individu dari tiap negara berbeda sampai dengan pelajaran saling toleransi didalamnya.
Diperkenalkan kesekian kalinya oleh satu makhluk yang terancam punah bernama Kukang (Nycticebus sp.), namun entah mengapa tidak pernah ada kata bosan di dalamnya. Selalu terkagum saat dapat melihatnya langsung di alam, di depan mata, di tengah kegelapan malam namun tetap terpancar cahaya kemerahan dari mata hewan ini. Bersama dengan tracker yang selalu mendampingi untuk menjelaskan beberapa hal yang kurang dimengerti tentang lokasi dan vegetasi lokal serta bersama dengan rekan peneliti asing lainnya yang sangat terbuka untuk berdiskusi, perjalanan tiap malamnya terasa sangat menyenangkan.
Selain pengalaman riset ilmiah langsung di alam, pengalaman dalam bidang edukasi dan awareness pun mengajarkan saya banyak hal. Saat pertama kali dikenalkan dengan program Nature Club, saya langsung jatuh cinta. Kegiatan rutin yang diadakan setiap hari Jumat siang bertempat dirumah manajer LFP ini, anak-anak setingkat SD telah diperkenalkan dengan rasa sayang terhadap alam melalui berbagai kegiatan berbasis fun-edukatif. Mengajarkan untuk dapat menghargai tiap makhluk ciptaan Tuhan, bahwa kita memiliki hak hidup yang sama di alam, sehingga tidak seharusnya saling menyakiti.
Lain Nature Club, lain pula Forest Protector, program ini ditujukkan kepada siswa-siswi SD yang dilakukan secara periodik di sekolah-sekolah sekitar desa Cipaganti dan desa-desa sekitarnya. Selain peran LFP, kegiatan ini juga melibatkan peran sekolah beserta guru kelas didalamnya untuk membentuk pemikiran baru di siswa-siswi SD tersebut, khususnya kelas 4, untuk mengenal hewan yang terancam punah ini beserta peranannya di alam. Sehingga diharapkan, dapat membantu LFP dalam usaha menjaga dan mengkonservasi keberadaan hewan langka ini di alam.
Tiap harinya berjalan dengan cerita baru disini, sampai tak terasa telah memasuki hari-hari akhir sebelum kembali ke Jakarta dan menjalani rutinitas seperti biasa. Banyak kenangan yang akan dititipkan disini, bersama tracker maupun rekan asing di LFP. Terimakasih banyak atas pengalaman dan pelajaran yang diberikan, semoga dapat bergabung lagi di kesempatan berikutnya.