Last week three of the team members (Faye, Julia and myself) headed off to Bukit Lawang in Sumatra, to work with some of our fellow conservation friends at Green Hill Bukit Lawang.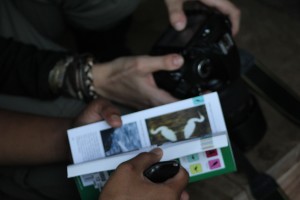 Green Hill is run by husband and wife, Andrea and Mbra, who have both been working in conservation and primate research for over 20 years now. Andrea is a fellow alumni of the Oxford Brookes University Primate Conservation MSc programme, and requested we bring Forest Protector to their own Nature Club, and offered us to visit any time we wished. I have been returning to LFP over the past two years, but still hadn't found time to explore the other Indonesia islands, so I was ecstatic to visit Sumatra.  Recently, all Asian primates have been re-assessed by the IUCN Red List, and the Sumatran slow loris is being increased from Vulnerable to Endangered. Sumatran lorises are more frequently being seen in market surveys and confiscations, for sale as exotic pets (an issue all slow loris species are faced with). From this news, we thought this would be a critical time to expand our education curriculum to another island for slow loris species at risk, as well as see some of the amazing Sumatran wildlife.
Flying in to Medan, we immediately began our journey to the lodge: a 3-hour bus ride followed by a 20-minute tuk-tuk to another bus, then another tuk-tuk, to then hike 20 minutes through a cave and along a river.  Despite the constant transport hopping, our commute seemed to be going quickly, though this may have been attributed to the stunning view. Java only has 9% of its rainforest left, so we were all in awe of the green horizons and tree covered mountains, in contrast. Unfortunately, it didn't take long for us to realize all the green was in fact acres of palm oil and rubber plantations.
Once we arrived at Bukit Lawang, we were greeted with dozens of smiles and immediately went over our schedule. Over the next few days we would trek through the forest and national parks, while our nights were filled with community outreach, education, networking and nocturnal animal surveys. With both forest type and climate drastically different from Cipaganti, we had to quickly adjust to denser rainforest, leeches, far more aggressive mosquitos, and the biggest adjustment of all—heat! Thanks to the mountains of Cipaganti, we were all in shape for the long hikes uphill, but in significantly cooler temperatures.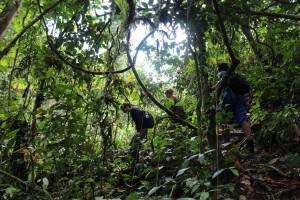 Faye and Julia focused on the education and outreach aspect of our trip, while I embarked on loris surveys. Our survey methods were a combination of night transects, vegetation surveys and GPS tracking. While my Bahasa Indonesian is far from fluent, it is definitely at its best when discussing the forest and wildlife. I conveyed the methods as best as I could, and we set off for 6 hours in search of Sumatran slow lorises.  Toward the end of the transects, we happened to walk through the village where Faye and Julia had been giving their presentation about slow lorises. After immediately spotting some of our LFP awareness stickers freshly added to windows, the children all came running out of their houses to tell me what they learned, and how much they now love the loris: "Saya suka kukang!!!". Parents as well (who also attended the presentation) came out to say hello, thanks and shake my hand. It was such a lovely feeling to hear them speaking so fondly of the loris, and seeing the immediate impact and awareness we helped to spread after just one presentation.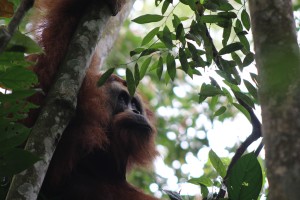 The last day of our trip also happened to be my birthday, so we went on a trek through Gunung Leuser National Park where we saw Sumatran orangutans, long-tailed macaques and Silvered leaf monkeys, followed by river-rafting back to the lodge. As a primatologist, I couldn't have asked for a better celebration or end to our trip. The people of Bukit Lawang have been nothing short of lovely and we look forward to working with them more, and teaching people about the nocturnal primates sleeping in their back gardens.
Katie Reinhardt, PhD Researcher