...
Hello everyone!  I arrived in Indonesia on the evening of Tuesday 28th April, by the time I'd reached base camp at LFP on the Wednesday afternoon I'd taken over a 100 photos!  This is my first time in Indonesia; it has so much going on; beautiful green countryside, extraordinarily friendly people and crazy roads!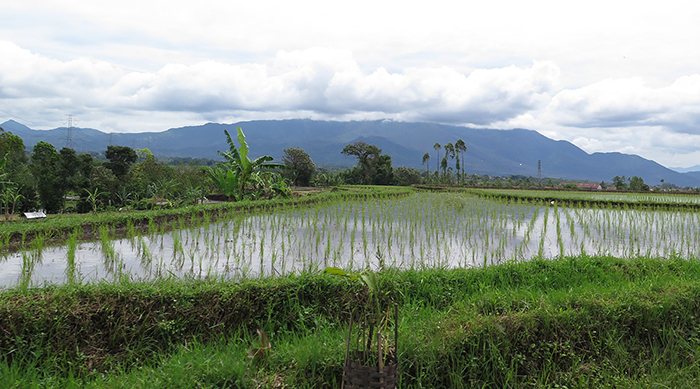 So far I've said goodbye to Lewis – a volunteer here at LFP as well as a friend from home, in fact, if it wasn't for him I wouldn't be here, and Jess – the longest serving volunteer here and someone so full of knowledge I'm feeling a little lost without her!  I've had the pleasure of meeting Sharon (project co-ordinator), Michael (Media officer) and the four trackers – Dendi, Aconk, Adin and Yiyi.  They have all been so wonderfully positive and I've really enjoyed spending time with them, they've made me feel so welcome!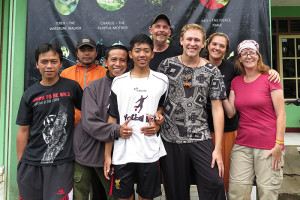 The way of life is shockingly different from the U. K. and I think this makes it a little easier to become a part of it – I cannot compare it at all!  I went on my first shift with Dendi on Thursday evening to find and record the position of each of the collared lorises – it was so cool to finally see them!  I think at the moment Rasi is my favourite – I managed to get a really good shot of him chilling out on a banana leaf!  He looked absolutely beautiful.  It really was an experience I'll never forget.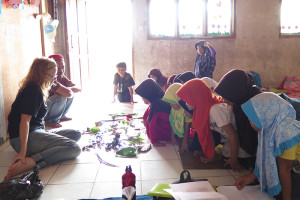 On Friday I joined Sharon and Jess at Nature Club – this is a class that is organised and run at the local school by Sharon from LFP and Dendi (one of the four trackers and also the builder and owner of the school) to help educate the local children about the wildlife in the area and the world of nature in general!  The children were all there voluntarily and it was great to see their enthusiasm towards learning about nature.  During the walk to and from the school I was surprised to see so many people smiling, waving and saying hello to us.  The people here are so friendly!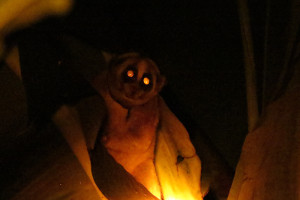 Friday night was my first observation shift.  Jess, Aconk and I set out at 11 pm in the hopes of finding Pak-B before moving on to observe Toyib…unfortunately it had been raining for 6 hours non stop – and pretty heavy, by the time we left it had stopped, but then at about 12.30 after hiking around rice fields and forest areas, it started raining again…we took shelter in a farmers shack to wait it out expecting it to cease, 5 am came and went and we were still stuck in the hut!  Eventually we had to brave the ran, after 4 and a half hours…I was so gutted that we didn't get to see any Lorises.
My first weekend here I had the opportunity to visit a hot springs (pretty much a warm swimming pool outside) – it has some amazing views of the mountains surrounding the town.  This week has been pretty hectic with Jess leaving us; Sharon and I took a trip to survey an animal market in an Indonesian town, while at the same time seeing Jess off.  It was so hard for me to see wild animals with so much beauty, in cages; birds, reptiles, mammals the lot were caged or leashed…babies separated from their mothers, some so frightened they were rocking back and forth, others scrambling over each other in cramped cages.
I had a late shift last night to watch Toyib…man did he move!!  Adin and I were constantly moving through fields and trees (I slipped countless times – which Adin seemed to find hilarious!) to get a view of him.  It was a great chance for me to get acquainted with the fastest mover of the clan…I don't blame him really, if I had the agility of a loris I'd be constantly on the move too!
That's all for now, I'll keep you all updated with the goings on here at LFP from a volunteers point of view next month!
Melissa – Student Volunteer