ABOUT THE LITTLE FIREFACE PROJECT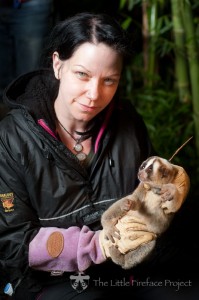 Slow lorises are a unique group of primates found throughout South and Southeast Asia. Their vice-like grip, snake-like movements, shy nature, and most remarkably, their venomous bite, make them unique amongst the primates. They also are to many people undeniably adorable, and to others, nature's answer to over 100 diseases. Their slow movements make them easy prey to expert hunters who literally empty the forests of these shy primates – amongst the most common mammals seen in Asia's illegal animal markets, but amongst the rarest spotted even in Asia's best protected forests.
The Little Fireface Project, named after the Sundanese word for loris, is the world's longest running loris conservation project, started in 1993, under the auspices of the Nocturnal Primate Research Group of Oxford Brookes University. Our research was highlighted in the award winning 2012 film Jungle Gremlins of Java. We aim to save lorises from extinction through learning more about their ecology and using this information to educate local people and law enforcement officers, leading  to empathy and empowerment whereby people in countries where lorises exist will want to save them for themselves. This is done through education, media, workshops and  classroom programmes. Our education does not stop in range countries, but also reaches out to potential western purchasers of loris pets.
---
Research Coordinator – Slow Loris and Nocturnal Animal Field Conservation Programme - 25/03/2017
Hiring Organization:
Little Fireface Project
Date Posted:
2017-03-25
Position Description:
The Little Fireface Project is seeking an enthusiastic and committed individual to spend a minimum of 12 months at our beautiful field station near Gunung Papandayan, Garut Regency, Java Indonesia, to serve as the Research Coordinator.
Commensurate with this role is the ability to multi-task in the following areas:
Essential criteria include the following –Nocturnal observations of target species; ability to schedule these observations in a organised manner; ability to lead a team and allocate roles to researchers, staff and volunteers; ability to train volunteers in observations, field techniques and data entry; ability to work with national and international students to complete their projects; ability to work with Excel, R, QGis or a similar mapping programme, and to generate monthly data reports; have a high degree of ethics for observing and handling animals; creativity in developing new project ideas and adaptability to adjusting methods that may have constraints under field conditions; adaptability to emergency situations (sick and injured animals or volunteers). Desirable criteria including the following – experience handling, applying collars to and radio tracking animals; microchipping animals; speaking Bahasa Indonesian (willingness to study and learn are required); ability to analyse data with advance statistics and other analytical techniques is highly desirable. Ability to use a range of field equipment is also desirable (training is available). Ability to use an SLR camera is also desirable. Other aspects related to the post include contributing to the project's social media; applying for funding and contributing to funding requests; contributing to the project's public outreach locally; presenting the work at Indonesian and Asian conferences and seminars and training students and government staff etc. where needed; ability to undertake market surveys for illegal trade is also useful.
In general, the applicant must be flexible, enjoy travel, have a high degree of cultural sensitivity, and understand the interface between ecological studies, conservation and the welfare of individual animals. The field station is vegetarian, although options are available in the village and town for other foods. The applicant must also be able to live 'unplugged' – Internet is available but often cuts out and is often slow, so the ability to work in a field situation with limited outside contact is vital.
The Research Coordinator will share some of these duties with a Volunteer/Field Station Coordinator, a Wildlife Trade Monitoring Coordinator, and a Public Relations Outreach Officer.
Qualifications/Experience:
An MSc or PhD is preferred; BSc candidates will be considered if they have the experience noted above. Two references who can attest to your suitability for the post are required.
Salary/funding:
The applicant will receive $250 per month salary.
Support provided for internship/volunteer positions (travel, meals, lodging):
The project will cover all meals in the field station (meals in town and other snacks are their responsibility), and all accommodation (currently worth about $400 per month). The applicant will have access to project equipment (although they are required to supply their own CluLite headlamp with red filter). The project will cover travel insurance up to $300 per annum, and will refund the return flight up to $1500 after the applicant has stayed with the project for one year. The project will also cover visa costs and travel to renew visas.
Term of Appointment:
one year from June 2017
Application Deadline:
A suggested deadline is 15th April, but the post will close when a suitable candidate is found.
Comments:
Please email for more details and check our website www.nocturama.org especially the section on volunteering.
Contact Information:
K Anne-Isola Nekaris
Nocturnal Primate Research Group
Oxford, Oxfordshire OX3 0BP
United Kingdom
Website:
http://www.nocturama.org
E-mail Address:
littlefireface@gmail.com