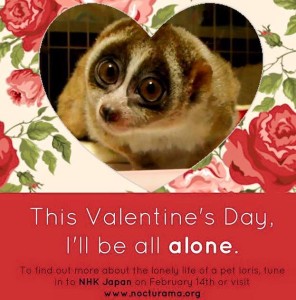 In the Summer of 2015 the LFP team worked alongside and NHK film crew to show the wonderful behavioural ecology of slow lorises to a Japanese audience. This was particularly important for us since Japan is a major illegal importer of slow loris pets. Indeed, a number of YouTube channels devoted to these wild animals, illegally smuggled and sold under the cover of 'pet shops', herald from Japan, and 100s of lorises are confiscated at Japan's borders.
Today, this film aired on the Japanese series "Here Comes Darwin". Not only did the film rank number one in Japan in terms of viewing, but the term 'SlowLoris' rose to the 1943rd most popular tweet. The film will air again on February 18 Thursday 16:20-16:50. Biologists of Japan's Wildlife Conservation Society will use publicity generated by the film as well as recent work published by the Little Fireface Project to help improve CITES import procedures and prosecutions in Japan.
We are very proud to have been part of this production, which has had huge impact on slow loris conservation!