...
Making a special place
I love drawing and colouring, but I normally don't have enough time to do it. So could it be more perfect if a task for the project involves working with colouring pencils?
Therefore, when Densie asked me about helping her with making a poster about nature for decorating a space for the children I immediately answered: of course! With the concept of nature-poster in mind, we decided that it would be a good idea drawing a huge tree, with long branches and deep roots, big enough to cover the entire wall. But we wanted the place to be dynamic and fun, so we came up with an amazing idea: drawing some animals separately from the poster and, by adding some Velcro to the back, the children have to place the animals according with the place they live.
So I drew some animals and Tara helped me colour them, here you can see some examples, I hope you like them!
Once the place is finished I will let you know the result. Be patient!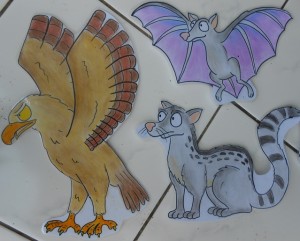 Drama Club:
The Little Fireface Project is not only concerned about conservation but also about helping the local community in many ways. In order to make it possible, the LFP team has implemented different programmes that involve education with children, and I am going to talk about the newest one. Sharon Forest had the amazing idea of doing a project with children in order to inspire and strengthen their creativity, and that is how the Drama Club was born!
The first session we decided to tell the children to make some instruments using their imagination. They made guitars, drums, cymbals, harps… by using just cardboard boxes and elastic bands! Quite impressive, isn't it? After that they dressed up and had some fun performing different characters, trying their best to express sadness, happiness, annoyance among many different feelings. They did it very well and it was a lot of fun!
The first session was an absolutely success and I can't wait to do the next one. Let's see with what these amazing children surprise us this time!
Nature Club:
Nature Club is a small club for the children of Cipaganti here at Little Fireface Project's Indonesian field site.  We are fortunate enough to have much to do with local people, especially the children.
Although Nature Club has been running for some time now, things have now been structured a little bit different, to ensure that every child can learn in the unique way that they learn best.  We all know that everybody learns differently and the children here in Cipaganti are no exception!  Some children are in awe when they learn English, others really do prefer the 'hands on' learning and others learn through play.  So the 'new' Nature Club is encompassing all of those ways of learning.
April was "FOREST" month and each lesson starts off with an English lesson; words associated with the forest.  The children love it and they seem to pick up the language really well (better than my Indonesian I must say).
Apart from English lessons, children are encouraged to answer questions which revolve around the forest near their village.  Learning about what animals live there and why the animals and their forest homes are important.  We did craft activities and forest walks to make sure our kinesthetic learners are covered, provided animal and tree photographs for our visual learners and lots of questions and answers to assist our audible learners; above everything else … we make it fun!
Activities so far include:
How plants grow – Including a competition to see who can grow the biggest plant from some green pea seeds
Tree Identification – A walk in the forest to see who can find the trees listed on a tree photo sheet
Poster Making – Who lives where in the forest?
 Learning to identify animals living in the forest in West Java.
With over 20 children attending each class, Nature Club is a valuable tool to teach children about the environment and the animals we share it with.
I have also learned that the children here in Cipaganti are extremely analytical.  They love problem solving and the activities that encompass this.
Nature Club is a wonderful platform for sharing and I have learned as much from these children as they have from me.
Next month … MAMMALS.