...
Hi Loris Lovers,
LFP Research Stephanie Poindexter here! I am now on day 42 of following three released pygmy slow lorises in Cuc Phuong National Park. Currently I am watching two males and one female, who have been given the lovely Vietnamese names of Một, Hai, and Ba, which translates to One, Two, and Three. With my limited Vietnamese and the trackers' limited English, sometimes simple is the best way to go. Personally, I like their names they sound much nicer than refereeing to them by their radio frequencies, which was the first suggestion…yikes!
After about 170 hours of observations, I've found that released lorises run fast and they run far. I am getting quite the workout climbing up hills, over fences, and through vegetation as tall as me, I also have a few cuts and bruises to show for my hard work. Recounting the night's adventures is always a fun point of conversation during breakfast each morning. The funny thing about working while everyone else is sleeping, is that no one except for you and the trackers know exactly what type of work you are doing.
My housemate, a visiting zoo keeper from Germany, knows that I study the lorises, but she was interested in what type of data I was collecting at night in the forest. During my attempt to explain everything, she asked, "Well, what's in that pack you always take with you?" I thought, what a great question, so I laid everything out on my bed .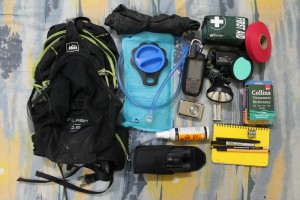 It was a bit like a clown car, pulling all of theses items out of this small bag. I explained to my housemate how I use each item and by the end I am confident that she could go out and collect the same data too. Here is a list of everything I carry with me:
First Aid kit
Rain cover for my backpack
GPS
Rite in the Rain notebook
Binoculars
Flagging tape
Pencils and pens
Back up batteries
5 liter water bladder
Repellent
Head torch with red filter
Small digital camera
Vietnamese dictionary