...
by Stephanie Poindexter
A very typical part of fieldwork, I have spent the last week updating my visa. Splitting my time between Hanoi and Kuala Lumpur, I have finally found a bit of time to really explore what Hanoi has to offer. Though I have been away from the lorises for a few days now, I was able to get my loris fix by meeting up with fellow loris researchers and having a few nice chats with people I met throughout the week.
Hanoi is a beautiful city, rich with history, culture, and an electric buzz that will keep you up all night. Lucky for me they offer a number of museums and historical sites showcasing both their history and culture. I visited most of the major sites including, the Ho Chi Minh Mausoleum, the Women's Museum, the Thang Long Water Puppet Show, and the National University, but my favorite by far was the Museum of Ethnology. This museum is one of the most visited attractions in Hanoi and it is easy to see why. Not only do they present an immersive experience describing the many distinct ethnic groups in Vietnam and other parts of Asia, but their open-air exhibit has life sized homes and communal structures, constructed by members of the ethnic groups themselves.
One group of particular interest to me was the Muong People, who live in areas overlapping with Cuc Phuong National Park. As I read about their specific agricultural practices and after seeing a few pictures, I realized that this all felt a bit familiar. Then, I remembered something the new translator at the center said on my most recent night of loris observations. During this specific observation we ventured to a new area out of our normal range in search of Cu Li Hai. She told me that the Muong people live in this area and sometimes at night you can see the children searching for grasshoppers with their little flashlights. A vast agricultural area between huge limestone hills, I didn't expect to see anyone living here, but when I used my binoculars I could see little houses in the distance. I find it funny that no matter where I am in Viet Nam I can always find connections back to my experiences following the lorises.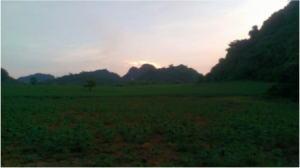 Vast agricultural area and home to a small Muong population
In addition to seeing the more cultural side of Hanoi, I also visited Ha Long Bay, which was named by UNESCO as a Natural World Heritage Site. As soon as you set out to sea it is quite obvious why this breathtaking site has captivated the UN. Staying on a boat for 3 days I got to know a few new people and naturally the they asked what was doing in Viet Nam, at which point, I took full advantage of the opportunity to introduce them to lorises and spread the word about their plight within the pet trade. I also got to talk a bit about civet coffee, which is heavenly solicited to tourists in Hanoi. I think I may have enlisted some new Little FireFace supporters 😉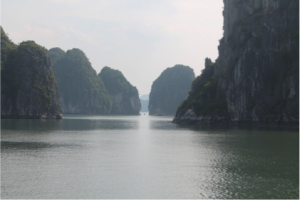 One of many pictures I took surrounded by limestone islands in Ha Long Bay.
I definitely enjoyed my visa run, but I am ready to get back to my nocturnal lifestyle and more importantly back to lorises. Stay tuned, as I get ready to visit a national park near Ho Chi Minh City, where I may get the chance to see some southern pygmy lorises!