...
Life in the LFP field station is what you make it. It's possible to skate through your time here in West Java missing out on the wealth of opportunities outside the door. And with the focus of the project obviously being slow lorises – a nocturnal animal – shift times coincide with the most active period of forest life and if you want to see the other inhabitants of this Javan agro-forest really all you have to do is look.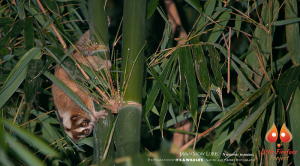 This abundance of wildlife is a major plus point for rainy season and the increased chance of seeing some of Java's fauna definitely helps get me out the door and into the agro-forest when the weather is miserable and it's raining! As if the chance to observe and study the wild behaviour of one of the "World's Top 25 Most Endangered Primates" and the world's only known venomous primate needs to be talked up, but if your study animal has been out of sight for 45 minutes or you've been stranded in a little farmers hut for hours due to the weather it really does help to have interesting surroundings.
If you set out on first shift, leaving the project house in daylight most of the larger forest inhabitants have yet to wake up although as you climb up the hill the journey often coincides with the start of the cicadas evening chorus and at dusk a multitude of buzzing insects fly in loops around your head – many of them having a nibble. The lorises we follow vary in distance from the field station from about a half-hour walk to nearly an hour to get up to the higher territories of Charlie, Toyib and Azka. Now I've been here for a couple of months I'm getting the hang of where to look for what along the different routes; I know where the civet family lives, what loris territories I'm most likely to see a leopard cat in, what to look for to notice the long tail of a dragon camouflaged in the Kaliandra trees alongside the paths and which farmers ponds, hidden amongst the undergrowth, provide a home to which frog species.
Once you've located your focal loris for the evening's observation and you've settled in to take your GPS point and observation it's rewarding to see the wildlife return as you quieten down. The ground comes alive as you watch it with innumerable grasshoppers and crickets, crazy looking shimmery beetles, stick insects on the lower branches and praying mantis and katydids among the leaves. During behavioural observations we take GPS points at 15 minutes intervals and record behaviour ad libitum throughout the night. One of the most important things to consider during a shift is the effect of the observers on the target loris, as we don't want to influence their behaviour; for the welfare of the animal and in turn to ensure you're collecting valid data! It's always important to keep quiet and once the animal has moved off we wait at least 15 minutes before following so the loris doesn't feel like its being chased. Being still and silent for prolonged periods of time mean that you get a good look at a variety of animals. This week alone I've had some awesome encounters; while huddled in a tea field watching adult male loris Azka gouging gum in jeingjen trees a Javan ferret badger trundled up foraging not 5 m from Pak Adin and I, his little white tipped tail bobbing along and later that same evening while sat in an unused and overgrown field a banded linsang walked calmly towards us, stopping about 2 m away to catch and chew a large insect before wandering off and watching us from a safer vantage point. It's not only the lorises that are more active during a second shift. I've found I'm much more likely to see civets in particular while out on the later observation. I've had occasions of common palm civets crossing directly over my head while using the water pipes to cross fields into the next clump of trees or them walking straight past me while they travel noisily through bamboo trunks.
While its refreshing to see how adaptable so many of these species are to life in their anthropologically altered habit, it also make me think of how diverse the area must have been before humans came in and cleared the area for crops. After all we are here because of a need to research a primate species, which is listed as Critically Endangered with its major threats being habitat loss and human persecution. Habitat protection is such a simple idea to suggest but one of the hardest to enforce. As I observe the wildlife, moving from crop field to crop field during my shifts I just hope that it isn't too late for these remaining species.
Jess Wise – Student Volunteer