Blog article
Marion: It's time to leave.
When I first arrived, every aspect of the project was new to me: Indonesian culture, slow loris, the technological equipment, and of course the scientific English language. But I'm not going to complain, because those are reasons I came. It's good once in a while to be surprised with a cultural shock! So I transformed myself into a chameleon and tried my best to learn in the quickest way possible. I came here firstly because I wanted to be involved in a conservation project related to wild primates and secondly to satisfy my desire to know more about agroforestry in this part of the world (agroforestry has been widely practiced by Indonesian community for centuries).
As Rob was leaving I had to take as much information as I could from him, he was like a living encyclopaedia for me.  He built this project, every single step to follow is carefully written and classified here in this computer. As soon as he left I had to turn myself into "Mister Rob O'Hagan" (obviously, in terms of the agroforestry project). At the beginning I felt ill-prepared but happily the team was here to bring me up.
I had 3 mains objectives:
1)      Finish the polypropagator.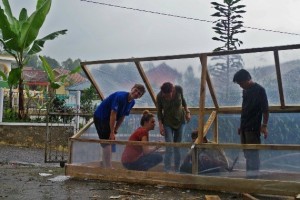 Before Rob left, he left us this curious wooden box to understand. This is a greenhouse filled with stones, gravel and water. The aim is to clone and propagate trees. To explain roughly, the gravel and the stones transform the water into humidity: "It's a sauna for plants", as we say around here.  We worked hard in the garden to install it properly. It's horrible to admit that without the help of men's muscles I could not achieve this result. Thanks to them again. The next step is to do some teak cuttings and begin to experiment, to find out what works better.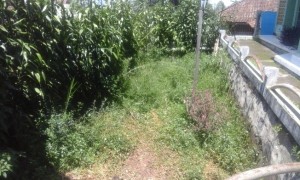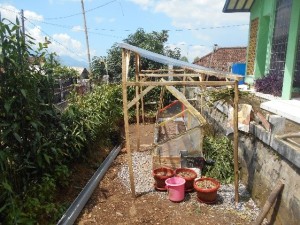 2)      Starting to plant seeds and grow seedlings in the tree nursery.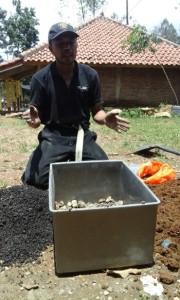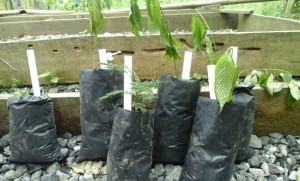 We have started the seedlings in Afrika, Suren and Jiengjen that we found in the farming area. In other news, some kayu putih seeds have been soaked for 2 weeks, which currently seems successful; we can see baby seedlings. In 2 weeks they will be transplanted in polybags. And as we say, great news never comes alone, we just welcomed a new volunteer, John, who is really interested to be involved in gardening and planting trees. He is going to be that much needed bridge between myself (and Rob) and the future volunteers.
3)      Complete 100 agroforestry surveys to: analyse the farmer's wishes, understand their concern about trees and to learn more about the environmental issues faced here.
We already had the first official meeting with the local farmers while Rob were here. We presented some agroforestry examples in Indonesia and proposed some ideas that we could apply here. The feedback is positive, with a few willing to start something with us; a fruitful response in our eyes. The next step is to send Aconk on a training agroforestry trip, to increase confidence, awareness, and the project's credibility about the project – in hope to form a 'farmer committee' who can agree to work and thrive with us.
For me to remember when I will get old and embittered, here are some of my best moments: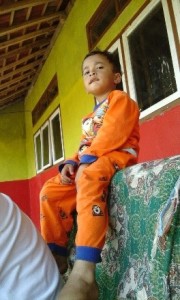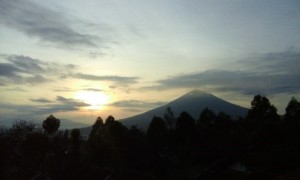 Spending time with locals: both farmers and kids are generally keen to pose for a photograph, and they are really photogenic too; what a perfect match!

Coming back from observation at 5 a.m: the body feeling all relaxed and tired, the mosque is singing, people slowly waking up, all with the perfect sunrise in the background!

Having a bubur (traditional Indonesian breakfast) with everyone in the early morning on the new social sofa.

Seeing these wild lorises playing and having cheerful moments with their children.

Doing the kitchen duty while Katie and Dan twist, sing and dance.

The harmonious landscape on the way down to the nearby town, Buyongbong, never ceased to amaze me.

Discovering the strong relationship that trackers keep between each other.

Visiting different schools around and discovering their different 'war scream'.

Understanding everyone's projects and wishes.

Watching the bright moon and the stars during a clear, crisp night.

Seeing the agroforestry project move forward.

And last but definitely not least: being part of this incredible well made project.
I truly had such a good time, I met really nice people here and it saddens me to leave. I learnt a lot from this experience and I believe that the Little Fireface Agroforestry Project will be successful, every ingredient is here; the farming land, the tropical weather, the hard-working people, the strong team spirit – all we need now is a patience and tolerance.
(By the way, this agroforestry folder is so full of interesting literature from all around the world that it should be an open source for everyone who wants to start this kind of project).