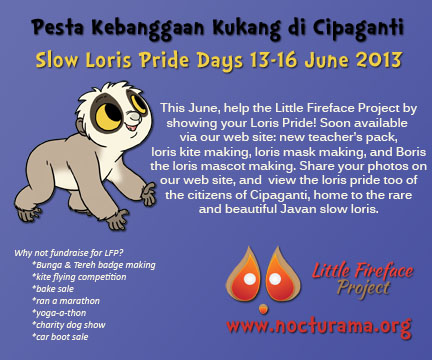 The Little Fireface Project will host a series of Law Enforcement Training Workshops throughout Asia in 2013. Workshops involve training on CITES law, identification of slow lorises and look-a-like species in wildlife trade, smuggling techniques, and information for rescue centres on how to care for and release slow lorises to the wild. If you feel a workshop is needed in your area, contact us at littlefireface@gmail.com.
Our next event will be a series of Slow Loris Pride (Pesta Kukang Kebanggaan) days  in the village of Cipaganti from the 13th-16th June, followed by a one-day workshop on Rehabilitation and Taxonomy on the 17th of June in Bandung. Details will follow, but email us if you want to join!
Our first workshop was held on the 15th-16th January at the Assembly hall of Cikananga Wildlife Rescue Center (PPSC), West Java. It was entitled: Workshop Proyek Muka Geni: Perlindungan, Perdagangan, dan Pemberdayaan (Little Fireface Project Workshop: Protection, Trade & Empowerment). A working document of the results in Bahasa Indonesian and English can be downloaded here.
Speakers included:
Session One: History and Taxonomy
Ibu Wirdateti – the history of nocturnal primate studies in Indonesia
Prof Anna Nekaris – Taxonomy and conservation of slow lorises
Prof Gono Semiadi: Taxonomy and conservation of civets
Made Wedana – the role of rescue and rehabilitation in protecting Indonesia's wildlife
Dr Richard Moore – can reintroduction work?
Dr Chris Shepherd – the importance of enforcement in regulating wildlife trade
Dr Vincent Nijman – Indonesia's role in international wildlife trade
Miss Johanna Rode: Implications of fieldwork for slow loris conservation
Miss Indah Winarti: Conserving Java's Slow Lorises through Education and Outreach
Mr Nabajit Das: Bengal slow loris conservation in India
 Day 2
Interactive Workshop led by Sozer, Nijman, Nekaris and Lehtinen – four working groups – Wildlife Trade; Rehabilitation and Reintroduction; Captive Management; Education.
We would like to thank the following organisations for funding this first workshop: International Primate Protection League, Dierenpark Amersfoort Wildlife Fund, Cleveland Metroparks Zoo, Primate Action Fund of Conservation International, People's Trust for Endangered Species, ZGAP, and Mohammed Bin al Zayed Species Conservation Fund.